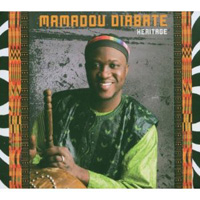 Mamadou Diabate – Heritage (World Village 468064, 2006)
Seckou Keita Quartet – Afro-Mandinka Soul (ARC Music EUCD 2028, 2006)
Toumani Diabate's Symmetric Orchestra – Boulevard de l'Independence (World Circuit/Nonesuch 79953-2, 2006)
My ten-year old son, who sings with a boys chorus of some renown, recently participated in a music industry showcase that featured all sorts of singers and players displaying their skills before a group of potential backers. Afterward, he reported seeing "an African guy playing this kind of harp thing that was really cool." It didn't take much more childlike description before I realized it was a kora he'd been entranced by. Must be a family thing- the kora, that 21-stringed West African harp/lute, is a favorite of mine too. It's got a heavenly sound that's great in traditional and not-so-traditional settings and with varying degrees of accompaniment (or none at all).
These three discs feature kora every bit as cool as what made such an impression on that boy of mine. Born in Mali and presently based in Durham, North Carolina,Mamadou Diabate follows up his solo kora CD Behmanka with a new ensemble effort called Heritage.
Accompanied by guitar, acoustic bass, balafon, calabash and talking drum, Diabate's delicate and deft playing evokes the majesty of West Africa in centuries past, the interaction of jazz, the joy of post-independence Malian music and the introspection of the kora's roots in jeli (musical historian) tradition. Every player shines and Diabate proves himself a gifted and gracious leader on this deeply pleasing all-instrumental set. It's not due for release until November 14th, so make a note.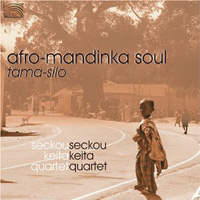 The sprightly playing of Senegal's Seckou Keita has helped make the music of Afro-Celtic fusionists Baka Beyond a delight, though on Afro-Mandinka Soul he and his quartet take a heavier approach. Keita is a percussionist as well, so his kora runs are frequently festooned with some crackling African and non-African drums.
Also in the mix are violin and West African single-stringed riti fiddle, bass electric or acoustic depending on the funk factor, guitar, n'goni lute and vocals. Afro-Mandinka Soul is a top-notch showcase for the reach and scope of the kora as lead and supporting instrument. The songs fire up an urge to dance as much as they strike deep into the trance zone that the kora was made to permeate. Highly recommended.
Taking the kora way beyond familiar solo and small group settings is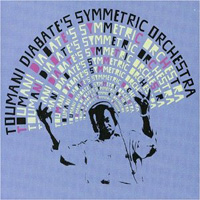 Toumani Diabate's Symmetric Orchestra – Boulevard de l'Independence [/caption]The Symmetric Orchestra plays, with varying participants, most Friday nights at a club in Bamako, Mali and they've won over audiences at a scattering of other appearances on the African continent. It's on Boulevard de l'Independence , though, that the rest of us get to hear this massive and massively good collective.
Toumani grew up with jeli tradition in his bloodline, and there's considerable evidence of that on this CD. But his true aim is to bring those traditions together with the sounds and splendor of the entire Mande empire which once encompassed much of West Africa. So we hear not only the acoustic/electric sounds of Mali evolved from empire to colonial days to independence, but those of Senegal, Guinea and elsewhere.
The pieces vary in scope and intensity, displaying by turns or in combination layered but entirely uncluttered horn, string and percussion sections creating glorious walls of sound around guitars, bass, n'goni, balafon, keyboards, various vocalists and of course Toumani's kora and musical direction. Latin, Afrobeat, blues, jazz and symphonic twists come and go without putting a snag into the mighty, captivating musical flow that marks this as one of the best releases of the year.
Buy the CDs: Heritage, Afro-Mandinka Soul, and Boulevard de l'Independence.
Author:
Tom Orr
Tom Orr is a California-based writer whose talent and mental stability are of an equally questionable nature. His hobbies include ignoring trends, striking dramatic poses in front of his ever-tolerant wife and watching helplessly as his kids surpass him in all desirable traits.