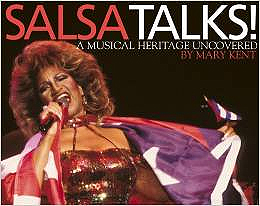 Naples (Florida), USA – On Saturday, August 19, 2006, the Florida Publishers Association (FPA), presented Mary Kent's book Salsa Talks! with two Gold First Place Awards: Best Coffee Table Book, and Best Overall Book. Visibly moved, the author said, "Celia Cruz and Tito Puente must be smiling down at me."
In addition to these two awards, Salsa Talks! won the judges over in June 2006 at Book Expo America, where the book took:
1 – Gold First Place, 8th Annual International Latino Book Award, Best Arts Book; 2 – Gold First Place, Foreword Book Of The Year Award, Music; 3 – Finalist Silver Medal, 21st Benjamin Franklin Awards, Multi-Cultural; 4 – Honorable Mention, Independent Publisher Book Award, Multicultural. Salsa Talks! pays tribute to the music of the Afro-Caribbean peoples in a full color 415 page tome. A Who's Who in salsa music, it documents the musical contributions of salsa's greats in their own words.
The book describes young Celia Cruz's first singing contests to her challenge of acceptance by fans as La Sonora Matancera's new singer; India's transition from the hip hop-dance scene to her first encounter with the cigar-smoking salsa legend Eddie Palmieri.
It includes Joe Cuba's memories of the Palladium days and how Cheo Feliciano's voice soared under his leadership. Cheo in turn, relives his most difficult moments battling drug demons. 41 chapters detail salsa's popularity and history.
"Afro-Latin music is an important source of pride for us Latinos. It has impacted the existence of American entertainment since the early 20th century. First the tango rage, then came the mambo craze, then salsa got us all dancing!" said the author.
In 1988, Mary Kent started documenting the salsa world with her photos and interviewing salsa's superstars. Her access to the Salsa Festivals and performances placed her in the heartbeat of salsa. Her passion for salsa became the driving force behind Salsa Talks!.
Completely bilingual in English and Spanish, Mary was born in the Caribbean coastal city of Barranquilla, Colombia.
Buy the book:
Author:
World Music Central News Department
World music news from the editors at World Music Central