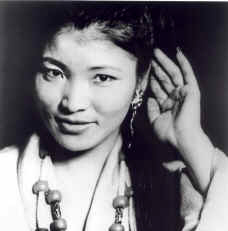 World Music Central recently interviewed Tibetan singer Yungchen Lhamo about her new recording and her music.
Your name has a special meaning. Could you tell us more?
My name means Goddess of Song or Melodies, I don't think of myself as a goddess, but I know I was born to sing, so like that I think it is a good name for me. It was given to me by a holy person in Tibet.
How difficult was it to learn Tibetan songs in occupied Tibet?
I didn't try to become a singer in Tibet, so I wasn't trying to be a singer however my grandmother taught me many songs and like that I learned devotional songs.
What kind of songs did your mother teach you?
Well as I said it was my grandmother and she taught me devotional songs. The songs are prayers, Buddhist prayers as well as folk songs from her native region of Tibet.
How old were you when you left Tibet?
Twenty nine.
What were the reasons for leaving Tibet?
I wanted to find freedom.
Is your music exclusively spiritual or do you also perform Tibetan folk songs?
Before, I always sang traditional songs , but now I write my own contemporary songs. So now I travel around and some songs are spiritual, some songs are about Tibet, some are traditional folk songs and some songs are about the world.
What is your preferred type of venue for your live performances?
Theatres and Churches.
Is there a special reason why your hair is so long?
American shampoo is cheap !..No, I like having long hair and it suits me.
What attracted you to New York?
New York is has such great opportunities for everybody. I like being here because there are so many cultures and freedom here. Everyone who comes here want to do something with their lives.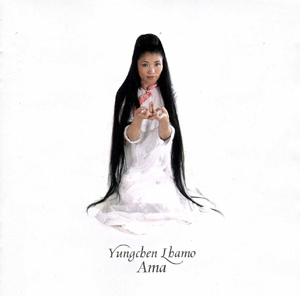 What's the concept behind Ama?

Ama means mother and I dedicate this CD for my mother.
How did you meet the producer Jamshied Sharifi?
He asked me to sing on his CD, and that's how we met, and then I found working
with him that he was very talented and creative producer.
What did Jamshied contribute to your recording?
Jamshied understands what I want to express with my songs, and he is very good
at finding the right sounds to bring my ideas across.
Can you talk a little about the meaning of the songs on your CD?
Ranzen means freedom. Tibetans have a history, but still our country is occupied. Fathers lost their lives, and single mothers were left with babies on their laps to raise in an occupied land. It is sad. They came and took our country. But that is not the end of the story. Life is changeable, and positive things will come if we work hard.
To the Tibetans, I wish to say, rather than focus on the sad state of things, hurry up and study hard so you will have something to offer the world. If you want freedom, go and get it. Wherever you are now, your life is here. There will be a day when we get our country back. For this you should be cheerful, hang prayer flags, dance and make offerings.
'Gebu Shere' – This is a song for a lover who is missing. If you have real love, then there is respect. A lot of Tibetans are separated from their true loves and families and can not be together. This song describes this point of view: "Falling in love with you, now I miss you, and everywhere I see your face. Should I be happy about this love or sad? My love, you are behind a mountain now, and I don't have the choice of taking you with me. But that doesn't mean I do not think about you. Go out into the world now. I will keep this love in my heart as a precious thing and will never forget about you."
'Om Mani Padme Hung' – The central mantra of Tibetan Buddhism, literally meaning
"jewel in the heart of the lotus." It invokes the compassion of Chenrezig. I have sung a version of this prayer on every album I have recorded. On this record, I try to connect the sounds of the mantra to the sounds of the festival and every day life. If you like it, please don't make it fashionable. Many of us are so busy it seems there is not enough time to pray, but it remains essential to keep our spiritual practice part of our daily lives.
While a full translation would take days, to put it simply, each syllable is a prayer. This
is the heart of the Buddha.
'Tara' (with Joy Askew) – This song is tonally inspired by the old Indian songs I heard years ago that I would like to sing but can't. Thematically, it is about Tara, the female Tibetan deity exemplifying feminine dignity, unselfishness, strength and compassion. When I was very young, I thought I wanted to be a man so that I could help more people. But my grandmother and my mother said you don't have to be a man to help people. They used to say, "You pray to Tara." Now I understand what they meant by that.
'9/11' – We all were living in a dream. Often, we do that. Nobody thought something like this would happen to New York City. That day, no matter how powerful you were, the sight of people falling from those buildings made everyone go numb. I remember that feeling of helplessness. I think we all felt that. Then, of course, we all cried, no matter what country you were from.
I moved to New York City with my son at the end of 2000, and America seemed like a monument or a flag to look up at. Now I travel the world, and when I see a city that looks like New York, it reminds me of that day. This song begins and ends with chants reminiscent of a puja for the people who died, with prayers to ease their passage to another world…In order for this tragedy not to happen again, what are we prepared to do? We can only hope the experience has made all of us more human.
'Namka Lhama Siktam' (Look Down on Us) – We don't acknowledge the beauty of what
is right in front of us. We always say, "I will finish this. I will do something." We Tibetans often say, "Free Tibet." Many die waiting. Often we forget that people who do good things for others are bigger than the sky. This song is addressed to the highest spiritual beings. So now I am this age. I have only skin and bone. Please come down and help us so that we can see more clearly. Humans are powerful, more so than machines, but we don't realize this. Come down and help us. Now is the time to come down.
'Nyebe Nilam' (Eyelash Girl) – In Tibet, if you want to court someone you write a letter or sing a song. This song describes that shy time when a man tries to communicate his feelings to a young woman without seeming strange. In the song, a man sings to a woman, "Hey, beautiful eyelash girl, please look this way and say hello, as I am too shy to speak to you." My sister Tenzin has very beautiful eyes. This song reminds me about her life before she left Tibet.
'Someday' – This song is for the Dalai Lama, and all of the lamas and people who left Tibet already many years ago. Losho means 'come home.' Please come back to your homeland. Take refuge in the triple gem—the Buddha, the Dharma, and the Sangha—faithfully pray and make offerings. If we are strong and faithful enough in what we believe, it will come true.
'Fade Away' (with Annie Lennox) – Arriving in New York was an overwhelming experience for me. Everyone has an idea to go somewhere or do something. And it can be
difficult when you don't know the language or culture. During this time, there were many people who helped me and my family. And these people who sent their kind hearts, I will never forget their kindness. So I will offer with my voice a song to say thank you. This is also meant for a new country that has welcomed me, where people from all over the world make a home.
Lhasa – I wrote this song with my father. Like a prayer wheel perched atop a mountain, the Potala in Lhasa is a monument to world peace. The Tibetan people are a lucky people and this is Chenrezig's palace. I feel blessed that I was born in Lhasa, a jewel in the heart of Tibet, and this has shaped who I am.
Are you in touch with other Tibetan performers who are living abroad?
Yes, I try to stay in contact with all the performers. It's hard when you are touring all the time to stay in contact, but I do my best.
Can you talk a little about the The Yungchen Lhamo Charitable Foundation? What is its mission and how can people help?
The Yungchen Lhamo Charitable Foundation is a 501c3 Nonprofit which I have set up to help young Tibetans in need. I have been so fortunate in my life, but as a refugee I am very aware of the problems so many young refugees from Tibet face, and the foundation is meant to help.
And now tell us about yourself. Where were you born?
In Lhasa, Tibet
What is your favorite meal?
Tsampa, the national food of Tibet
What music are you listening to lately?
I listen to a little bit of everything, music from all over the world.
What is your favorite movie?
I don't watch very many movies, unless they are documentaries. Recently I saw a powerful documentary about 9/11 called "American Zeitgeist" which I liked very
much.
What do you like to do during your free time?
I like to do prayers, and especially these days we need prayers for the world.
What country would you like to visit?
Tibet, but I can't. I will when it is free.
What is your favorite city?
New York City.
What was your best moment?
My best moment is the moment I wake up. First I am alive, and this means it is a precious opportunity for me to be of benefit. So I think each moment is the
best.
What was your most embarrassing moment?
I've had quite a few !! One time I was on stage and ready to perform. Well there were quite a few curtains before the edge of the stage. They announced my name, and I kept going through the curtains but could not find the stage.
What was the first big lesson you learned about the music industry?
The first big experience I had was in 1995, when I first signed with Peter Gabriel. This opened my eyes to the nature of the music industry.
Resources:
Yungchen Lhamo Charitable Foundation
PO Box 4262
Sunnyside,
NY
11104-0262
ylhamo@joimail.com
Author:
World Music Central News Department
World music news from the editors at World Music Central