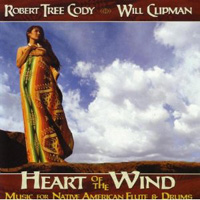 Robert Tree Cody and Will Clipman
Heart of the Wind (Canyon Records CR 7072, 2006)
I first listened to this CD after returning home from a long plane trip across several time zones. A few seconds into the opening track "Gila River Sunrise," my sour, jet-lagged spirits began to lift. omething resembling total bliss set in shortly afterward.
Native American flutist Robert Tree Cody and percussionist Will Clipman have collaborated previously as well as distinguishing themselves alongside other artists who record for the Canyon label. This, however, seems to be the first disc featuring just the two of them. And they're all you need, really.
Cody's flute keens forth in long, radiating waves of sound, peppy melodic chortles and ghostly refrains while Clipman's percussion stirs in African, Latin, indigenous and folkloric airs that spur the pieces along or help them kick back and relax. The two tie it all together especially nicely on the lengthy title track, playing in and around each other with musically conversant tones equally tranquil and dramatic.
A perfect album to unwind to, or grab your unplugged instrument of choice and join in. Highly recommended either way. Oh, and though it's already been spoken of favorably on this site, I also give high marks to My Heart & Soul, the recent pairing of Clipman with wonderful Native singer Randy Wood.
Buy Heart of the Wind.
Author:
Tom Orr
Tom Orr is a California-based writer whose talent and mental stability are of an equally questionable nature. His hobbies include ignoring trends, striking dramatic poses in front of his ever-tolerant wife and watching helplessly as his kids surpass him in all desirable traits.