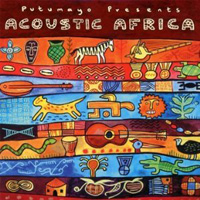 New York (NY), USA – Some of the African continent's premier singer-songwriters are featured on Acoustic Africa (Putumayo PUTU254-2 CD), an unplugged collection that will be released September 5th, 2006. These artists are helping to spearhead an acoustic revolution in stark contrast to the studio-based, synthesized dance music that became the standard for African pop-stars of the 1980's and 90's. On Acoustic Africa, there are folk songs from Senegal, a protest song from South Africa, blues-tinged ballads from Mali and much more.
Acoustic Africa featured artists Habib Koité (Mali), Vusi Mahlasela (South Africa), and Dobet Gnahoré will tour the US, Canada and Europe as part of the Putumayo Presents: Acoustic Africa concert tour in support of the CD release.A portion of Putumayo's proceeds from the sale of  Acoustic Africa will be donated to Mercy Corps in support of their efforts to help AIDS victims and the victims of the civil war in Darfur, and to Oxfam America and Oxfam Novib's "Make Trade Fair" campaign to improve trade conditions for African countries.
The Putumayo Presents: Acoustic Africa Concert Tour featuring Habib Koité from Mali, Vusi Mahlasela from South Africa and Dobet Gnahoré from Ivory Coast will travel to more than 40 cities in North America and Europe, giving audiences a rare opportunity to experience the dynamic performances of these extraordinary musicians.
The Acoustic Africa Tour and CD, Acoustic Africa, will also provide an opportunity to draw attention to some of Africa's challenging social issues, in addition to its music. All three performers on this tour are social activists, building awareness of the conditions in Africa that affect the region and the world. The 1980s and early 90s in Africa were punctuated by enormous political and social  transitions. The direct result was profound on Koité's and Mahlasela's creative output, and reflected a maturation in their artistic identity.
Often addressing issues of social and political significance in his homeland, Mahlasela's lyrical message of peace was a beacon of change during South Africa's formation of a new government. Eventually, this drew him into close contact with national leadership, performing for Nelson Mandela's inauguration in 1994. Meanwhile, Koité had formed his new band Bamada in Mali, where tribal conflicts had reached a peak prior to the first democratic, multiparty elections in 1992. Koité's extraordinary talent in bringing together divergent musical styles is evident in his songs, which reflect the multiple ethnic traditions of his country and nurture the goal of a pan-Malian culture.
At the same time, a young Gnahoré was studying music and dance in the pan-African community of Ki-Yi in the Ivory Coast, where social conflict has led to the displacement of thousands in the last decade. Eventually, she too migrated to France, where her artistic identity continues to evolve. Gnahoré's songs, musically and lyrically diverse, evoke the struggle and hope of her country.
This will be Gnahoré's debut tour of North America. Koité and Mahlasela have each toured successfully but never as part of such a diverse presentation of contemporary African music.
Buy the CD: Acoustic Africa
Author:
World Music Central News Department
World music news from the editors at World Music Central