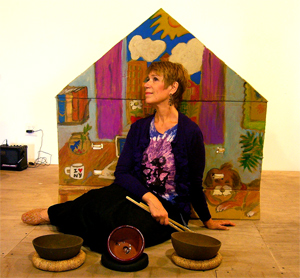 Mumbai, India – Visionary singer, poet, percussionist and composer Paula Jeanine is known for developing the concept of American Ghazal, in which elements of South Asian music are melded with western fundamentals.
With performances from New York's Lincoln Center to Morocco's Royal Palace, Jeanine is a Billboard award winning artist trained in both jazz and traditional raga vocal discipline. Inspired by ghazal, thumri and khayal, Jeanine has been freely adapting, composing and performing songs for her modern voice informed by ancient sources.
A true American thinker, Jeanine has sought to overcome artistic boundaries in developing repertoire that suits her unique vocal colors and poetic direction. Expanding on traditional ghazal topics of love and divine longing, Jeanine weaves themes of family, cultural identity, loss and women's issues into the fabric of her songs.
This summer, Jeanine was chosen to be one of the Voices for Peace at the World Assembly of Religions for Peace in Kyoto, Japan. Her deep commitment to intercultural harmony will be the theme of her India performances.
In the upcoming four city tour this September 2006, arranged by the American Center,
Jeanine will have the unique opportunity to collaborate with regional musicians in Aurangabad, Mumbai, Raipur and Bhopal. Bowing to ghazal tradition, she has requested that sarangi be added to the concerts, the plaintive "sound of 100 colors".
"I have had the privilege of being Paula's Indian classical music guide and teacher during her travels to India. As she was imbibing the Indian vocal techniques her interest in urdu ghazal came to light. With her rich vocal timbre, musical sensitivity and amazing poetry writing skills she captured the true spirit of the urdu ghazal and it became apparent that she was on her way to carving out a rare niche for herself………. the American Ghazal. When I today hear her brilliant interpretations of some of the classic all time ghazals it brings me immense pride and joy," said Dhanashree Pandit-Rai of the Jazz India Vocal Institute in Mumbai.
For more information, visit www.paulajeanine.com.