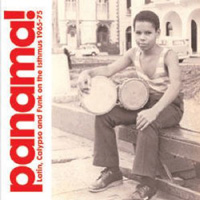 Various Artists
Panama! Latin, Calypso and Funk on the Isthmus 1965-75 (Soundway Records SNDWCD007, 2006)
My CD collection wasn't previously blessed with music from Panama, because before this album there wasn't much of it making its way into the wider world. Honestly, I hardly gave Panamanian music a second thought apart from a couple of cuts on 2001's Rough Guide to the Music of Central America.
Thanks to this splendid album, we now can get a very rich earful of what we've been missing. As the geographical link between North and South America, Panama has absorbed styles from both and beyond.
Apart from what the title suggests, obvious touches of New Orleans, urban soul and boogaloo abound, covering a varied selection of vocal and instrumental tracks. Some of this stuff swings like classic Latin jazz (Bolita y su Tentacion Latinas' "Descarga Tentacion," Freddy y sus Afro Latinos Cal Tjader-like "Multrato"), some is more raw and traditional (the wry calypsos by Los Silvertones and Lord
Cobra), some blazes with a let's-get-funky party vibe (check the echoey "Exciters Theme" by, naturally, The Exciters) and there's not a weak track in the bunch.
None of the artist's names are likely to ring a bell, but their work comes resoundingly alive here. High marks to compiler Roberto Ernesto Gyemant and Soundway Records for bringing these marvelous songs into the light.
Buy Panama! Latin, Calypso and Funk on the Isthmus 1965-75
Author:
Tom Orr
Tom Orr is a California-based writer whose talent and mental stability are of an equally questionable nature. His hobbies include ignoring trends, striking dramatic poses in front of his ever-tolerant wife and watching helplessly as his kids surpass him in all desirable traits.