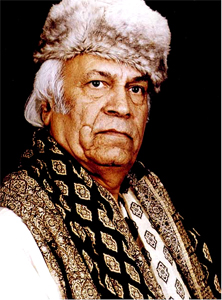 Santa Cruz (California), USA – Indian musician Pandit Shiv Dayal Batish died August 29th in the United States. "He was fighting congestive heart failure for nearly 2 years," said his son, sitarist Ashwin Batish. "He died peacefully July 29th at 2:20 a.m. at Dominican Hospital in Santa Cruz, California, USA. He leaves his wife Smt. Shanta Devi Batish, his five children – Smt. Surendra Devi Batish, Shri Tarun Kumar Batish, Smt. Vijay Laxmi Batish, Shri Ashwin Kumar Batish, and Shri Ravi Kumar Batish and eight wonderful grand children that loved him so dearly. Panditji would have been 92 in December this year."
For many years, Ashwin performed with his father. "He would come regularly to play with me the various shows at KKUP with Joe Sodja, Thomas Vivian et al.
He loved every minute of it and always missed doing it in the latter years."
The funeral services are planned for 11 a.m. this Wednesday August 2nd at
Mission Chapel
1927 Ocean St. Ext.
Santa Cruz, CA 95060
Phone: (831) 426-1601
Fax: (831) 426-848
Condolences can be emailed to batishs@gmail.com, faxed to (831) 423-5172 or mailed to Batishs, 1310 Mission Street, Santa Cruz, CA 95060 USA.
S. D. Batish has been a stalwart on the Indian music scene since 1936. His songs have been broadcast from All India Radio nationwide. His old movies are regularly shown on Indian TV. He is a true master of the various vocal and instrumental styles of North Indian music, including Bhajans, Geet, Thumri, Ghazals, Film Sangeet, etc. Some of his outstanding films are Betab, Bahu Beti, Toofan, Harjeet, Tipu Sultan, Ham Bhi Kuch Kam Nahin, and Amar Keertan. His songs have been sung by such top artists as Lata Mangeshkar, Asha Bhonsle, Talat Mahmood, Mohamad Rafi, Sudha Malhotra, Manna Dey, and Geeta Dutt. Some of his all time hit songs are, Pagadi Sambhal Jatta, Khamosh Nigahen, and Aakhen Kehe Gayi Dil Ki Baat.
"In England he was a frequent artist at the BBC world music program and worked
on the sound track in the Beatles film Help. George Harrison would frequently call him at his home and play songs. I know because I answered the phone," says Ashwin Batish. "He would send his limo to pick him up as we looked out the window in awe. He also taught George's then wife Patti Harrison how to play the Indian stringed instrument the dilruba. He instructed Mr. Michael York of Logan's Run fame how to play the sitar for his role in the movie Guru."
In 1970 Pandit Shiv Dayal Batish moved to California, USA to teach music at the University of California, Santa Cruz. He loved this area and decided to make it his home. He wrote some of his greatest works here. Books to teach North Indian music, compositions on over 2200 Carnatic ragas and over 700 North Indian ragas, Instructional videos to teach the harmonium, vichitra veena, dilruba are just a few of the releases. He and his son Shri Ashwin Batish, also formed the Batish Institute of Indian music and Fine Arts – an educational Institute to teach Panditji's music and to further the cause of Indian music and culture in the World.
In a public announcement, Ashwin Batish said: "To all my father's fans, please stay in touch. He leaves us with a tremendous legacy that we will share with you all in the very near future. It was his wish to never stop reaching out to spread the musical word. He believed if we all spent more time studying music and other arts the world would be heaven. He often said "with music you no longer need to try going to heaven, you are already there!"
We will sorely miss his presence and his phenomenal grasp of culture, language, musical abilities, and humanity. I can only say that I and the rest of the Batish family members will try our level best to bring to you the teaching of this great personality. I aim to archive all his works and memorabilia at his home in Santa Cruz, California. USA and am seriously considering creating a non-profit foundation to carry on the work of my father.
You are invited to visit his personal site at  www.sdbatish.com. Any old images, music, trivia on my father's professional musical career will be greatly cherished by my family.
With great love and a very sad heart," Ashwin Batish
Batish Institute of Indian Music and Fine Arts
1310 Mission Street, Santa Cruz, CA 95060, USA
www.batish.com
www.raganet.com
www.ragmala.com
www.sdbatish
www.sitarpower.com
Author:
World Music Central News Department
World music news from the editors at World Music Central