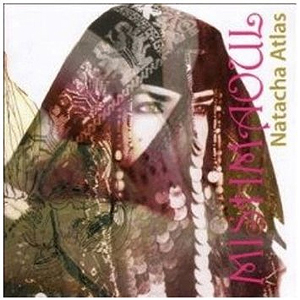 Mish Maoul (Mantra Recrodings / Beggars Group MNTCD 1038, 2006)
The queen of world music is back with an superb recording that shows why she is one of the finest world music acts today. Produced by Temple of Sound (former members of TransGlobal Underground) and frequent collaborators of Atlas, Mish Maoul brings back the rootsier side of Atlas. In past recordings, producers tried to make Atlas attractive to broader audiences by adding hip hop and R&B. Sometimes it worked, but other times it was annoying and it made the music stray away from Atlas' charismatic voice. This time, Temple of Sound and Natacha Atlas worked together to craft an album that is nearly perfect.
Atlas is gifted with a remarkable voice and she has developed a characteristic sound that blends the best of contemporary Arabic music with western pop elements. She can be delightfully melodic, but she can also ululate effortlessly, like a Berber tribeswoman. Most of Mish Maoul is sung in Arabic, which allows Atlas to shine.
The album begins with a "Oully," a beautiful song that features both Atlas and another outstanding singer, male vocalist Sofiane Saidi. The next song, "Feen," is my least favorite on the album. Atlas performs well, but the R&B-style English vocals are frankly a pain. Things get back to high standards on "Hayati Inta," a scorcher of a song, featuring Hamid Benkouider, from Algeria, with compelling Berber chanting, percussion and reeds.
The song "Ghanwa Bossanova' is self explanatory. Atlas performs a laid back song with a bossa feel that includes charming Arabic vocals and ney (flute).
The rhythm driven "Bathaddak" is classic Atlas, featuring Egyptian-style raqs sharki (belly dance) beats, featuring spectacular darbuka (or dumbek) drum work.
Things quiet down again with "Wahashni," a piece with excellent ney (flute) work, interacting with Atlas' exquisite vocals.
The dreamy "Haram Aleyk" brings the qanun (Arabic psaltery or dulcimer) to the forefront, together with trance-like handclap percussion and electronic sounds.
On "Haram Aleyk," the Egyptian rhythms return, led by the darbuka and featuring what sounds like a full Arabic-style orchestra, including qanun, strings, accordion and even rocking trap drums.
"La Lil Khowf," perhaps the jewel of the album, gets funky with a hip hop introduction that leads into Atlas at her finest. Her soaring vocals are accompanied by dance beats, strings, Sofiane Saidi's wonderful vocal work, sound effects and keyboards. A true delight.
The album ends with less complicated arrangements, featuring Atlas' vocal nuances accompanied by guitar.
Buy Natacha Atlas' albums:
Author:
World Music Central News Department
World music news from the editors at World Music Central