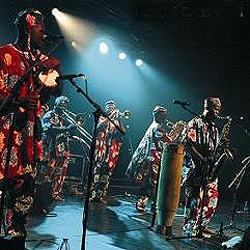 New York City (New York), USA – One of the finest brass bands from Africa, Beninese Gangbe Brass Band, will be performing at Joe's Pub on Tuesday, April 25 at 7:30pm + 9:30pm. Joe's Pub at The Public Theater is located at 425 Lafayette Street NYC (between East 4th and Astor Place).
Imagine the sound of military brass bands, voodoo ritual chants and rhythms, scratchy American jazz records, with a dash of Fela's Afrobeat, and you can almost hear Benin's explosive and colorful Gangbe Brass Band.
Gangbe delves into the rich voodoo culture and the ancient songs of their country – the legendary Dahomey – in order to produce an ecstatic contemporary sound. Complex
jazz harmonies on saxophones, trombones, trumpets are fused with African percussion, creating trance-inducing rhythms that are powerful as on the dance floor and concert hall as at funerals and weddings.
The juxtaposition of sounds of Gangbe Brass Band—at once hard-hitting and sweet, simultaneously mischievous and soulful—catches listeners off guard, making it hard for them to decide whether to stare in awe or step onto the dance floor. Either way, Gangbe conjures up a place and time that is both real and magical.
Don't miss the Band's long awaited return to Joe's Pub, where they made their New York debut in 2002.
Author:
World Music Central News Department
World music news from the editors at World Music Central