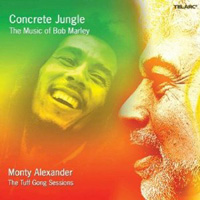 Monty Alexander
Concrete Jungle: The Music of Bob Marley (Telarc CD-83635, 2006)
This isn't the first time Jamaican pianist Monty Alexander has jazzed up reggae music or the music of Bob Marley. He did the latter very nicely on his Stir It Up release from a few years ago and he likewise does so with considerable respect and musical skill on this disc.
Joined by an attuned team of reggae and jazz players at Marley's own Tuff Gong Studio in Kingston, Alexander once again expands expertly upon the tightly wound intensities of Marley's brand of rebel
music.
These are mainly instrumental versions of songs that are among Marley's most militant, and the challenge of making the bulk of them sing without lyrics is met. Listen to the clever way "Forever Lovin'
Jah" and "Africa Unite" employ tumbling, percussion-laced interludes or the laid-back mystery with which "No More Trouble" unfolds into a meaty showcase for Delfeayo Marsalis' trombone.
"Babylon System" is another highlight, its lilting melancholy colored by halting piano, acoustic
guitar and nyabinghi drumming. Plus, "Three Little Birds," perhaps the most anodyne piece of fluff Marley ever recorded, is given new life with a mento-style arrangement, and "War" is pumped up with vocals by Luciano preceding a "good over evil" group chant that sounds like a rallying cry for our times.
Alexander's piano sets the mood in and around the reggae beat throughout the album, frequently leading the way into jazzier sections that still bounce and sway with an island feel. Only the title track (with vocals that come across strained and unconvincing) falls short, even though a few potent melodica shots by Alexander give it life.
Some hardcore Marley lovers might not take kindly to such interpretations of their hero's music, but easygoing reggae, jazz and fusion fans will embrace this disc for the heartfelt and soulful tribute that it is.
Buy Concrete Jungle: The Music of Bob Marley
Author:
Tom Orr
Tom Orr is a California-based writer whose talent and mental stability are of an equally questionable nature. His hobbies include ignoring trends, striking dramatic poses in front of his ever-tolerant wife and watching helplessly as his kids surpass him in all desirable traits.