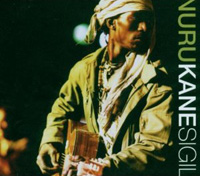 Nuru Kane
Sigil (Riverboat Records/World Music Network TUGCD 1041, 2006)
This dynamic disc was recorded in a Scottish country cottage and a Paris studio, but the feel is equal parts North and West Africa.
Dakar-born Nuru Kane displayed a knack for music early on, listening to and playing various genres (and instruments) while growing up. The main influences here, though, are the Gnawa trance music of the Western Sahara and the mysticism of the Senegalese Baye Fall Islamic sect, whose best known musical ambassador these days is Cheikh Lo.
Kane exudes charisma and solid musical chops through the dual moods ofSigill even as he echoes some of his noteworthy predecessors. There's more than a hint of Boubacar Traore in the sparser tracks, while the more upbeat ones recall the raw Saharan edge of bands like Nass Marrakech.
His singing is like that of a bluesman perched atop a minaret, proclaiming over a foundation of three-stringed guimbri bass layered variously with instruments that conjure up an Afro-Arabic mood (n'goni lute, oud, djembe) and/or judicious European seasoning (accordion, violin, flute).
A terrific album throughout, with highlights that include the corruption-blasting "Colere," the slavery lament "Goree" and the lengthy closer "Mami" that takes a less-than-fond look at Africa's colonial legacy.
Buy the album:
In North America: Sigil
In Europe: Sigil
Author:
Tom Orr
Tom Orr is a California-based writer whose talent and mental stability are of an equally questionable nature. His hobbies include ignoring trends, striking dramatic poses in front of his ever-tolerant wife and watching helplessly as his kids surpass him in all desirable traits.