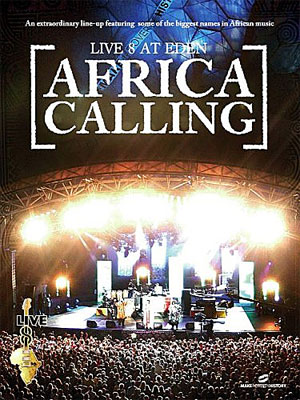 Various Artists
Live 8 at Eden Africa Calling (Real World/Rhino R2 970505, 2005)
Live 8 at Eden – Africa Calling was part of the Live 8 series of concerts to raise money for "Make Poverty History". This concert brought together traditional African music, Arab-African music and Western influenced music. The group of artists represented on this DVD take you from the far north in Algeria to the extreme south in South Africa. It truly represents all the beauty of Africa and some of the harsh realities. We have artists on this CD who have been refugees, political prisoners and even a child soldier and yet their music still has the distinct feeling of hope and a love for life.It was a pity though that many of the artists were missing either their entire band or parts of their groups, which I thought took away from some performances.
However, Geoffrey Oryema from Uganda performed on his own with simply his voice and his guitar. His voice is completely mesmerizing. It is at once gentle and soothing, moving seamlessly into a commanding and very powerfully stirring delivery. In the first song he sings, Lapowny, he uses his guitar as a string instrument and a percussion instrument and it is just fascinating to watch how he uses it to express himself. Quite frankly I am not sure that having a band behind him wouldn't have taken away from the simplicity of his delivery, which is so strong. Geoffrey Oryema is definitely one from this DVD that would be worth learning more about.
African music cannot be pigeonholed into one category as this DVD well shows. The musical influences and instruments from all corners of the world have been
incorporated into the traditional music of Africa with the result being these wonderfully vibrant styles of music. The best representation of the traditional
and modern blends can be seen in the music from Zimbabwe. Zimbabwe is the only country represented which has a variety of its music shown. Ranging from the
very political and westernized style of music of Thomas Mapfumo "The Lion of Zimbabwe" and The Blacks Unlimited, to Chartwell Dutiro and his traditional mbira, to Siyaya who present traditional fables through song, dance and theater.
Thomas Mapfumo And The Blacks Unlimited have evolved over the last few decades and although starting out with all Western instruments they did eventually include some traditional instruments, in particular the mbira (a thousand year old instrument played with the thumbs). The style of their music had to adapt to the traditional instrument and resulted in a music style very representative of the modern Shona. With the mbira and his unique horn arrangements he presents the Chimurenga style, which is uniquely Zimbabwean. For many Zimbabwean's he is revered not only as a musician but a man who is unafraid of speaking the truth even when it is about Mugabe, who at one time he viewed as the hero of the fight for independence.
Shikisha, meaning "belt it out, to sing and dance like you've never danced before" could not do more justice to their name. This group of Zulu women from South Africa, are a very fine representation of the best of the traditional South African music. Dressed in traditional beaded costumes they sing and dance uninhibitedly with such joy that you can't help but be completely drawn into their music.
It was interesting to see that from Mozambique and Portugal is included a singer, Mariza, who was born in Mozambique and grew up in Portugal. It is not often that a white African is included in anything representing Africa, which seems odd since Africa is made up of many different people including European descendants. It once again demonstrates that the designer of this concert knew Africa well and included all of Africa not just what the West considers to be African. She represents the "fado" style of music, which complements so well her ability to bring out the emotion in her amazing voice. Fado music is thought to have evolved from African slave rhymes combined with Portuguese and Arabic music.

Youssou N'Dour Et Le Super Etoile are probably the most well known group included in this concert. He is joined by Dido for one of his songs. Dido's
strong voice melds well with N'Dour. As usual, N'Dour gave a stellar performance. The first two songs he does, Set, are very much Western influenced with a bit of Africa thrown in to finish it off. It is not surprising that he has had such an appeal in the West, as his music is very easy for the Western listener to get accustomed to. The third song, Birima, has a much more African sound with a style of electric guitar playing that is uniquely African. With his ever-evolving music style he is the one African Artist that seems to have transcended the barriers of language and has consistently represented the heart of Africa and it's issues.
There are so many artists included in this concert that it is impossible to dissect every performance. There are however two other performances I must mention. In a style taken from the US, Emmanuel Jal and Daara J have taken on the hip hop and rap world and merged it so successfully with Africa.
Emmanuel Jal was child soldier in Sudan who was rescued at the age of 12 by a British aid worker. He is one of the artists on this CD to watch. His lyrics and the inclusion of a very Arabic style of music mixed with a hip-hop base work so well.
Daara J who were the last group to perform are a young group of hip-hop artists from Senegal who are taking on the world with their socially conscious songs. Again they have taken hip-hop and put it into the mix with their own take on Senegalese music and produced a style that has the power to make the jump from Africa to the West. The songs they perform are Exodus, Mic Check and Sunu Mission and I couldn't pick a favorite if I had to. They are a very young group and their growth will be fascinating to watch. They get my vote as the group who can take on any hip-hop group and come out on top.
There are two DVD's in this set and included on this is a documentary called "Africa Calling At Eden" which discusses some of the issues with putting on the concert and gives you a little background on some of the artists. Definitely watch it. It touches on the way African's view their issues and what they are doing to try to overcome them.
The great thing about this DVD is that it is not only a wonderful concert but also a lesson on the varied culture and people of Africa. There are few regions
of the continent that are not represented here.
I have yet to find a collection of African music that can even hold a light to the collection of musicians and styles represented in this concert. If you were
only to buy one CD/DVD to represent the entire continents music you will be spending your money wisely to buy this one. You'll enjoy the music and performances and hopefully come away with a better understanding of the diversity of the continent and its issues.
Purchase the DVD: