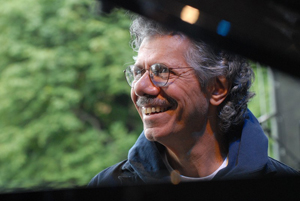 Serious and Universal Classics and Jazz have teamed up to bring Chick Corea to the Queen Elizabeth Hall for an exclusive European date on January 19. A rare chance to catch this most charismatic of pianists in an intimate venue, Chick will launch his latest Concord recording
The Ultimate Adventure with his band, Touchstone, whose London debut in summer 2004 was the highlight of a sold out Barbican residency. the concert will be held Thursday, January 19th, at 7.30pm, at Queen Elizabeth Hall.
Touchstone grows out of Chick's long-standing love affair with the music of Spain and Latin America – a fascinating journey which combines the virtuosity of one of today's jazz piano masters with the passionate rhythms and melodies of Flamenco heroesJorge Pardo (flute, saxophones), Carles Benavent (bass) and
Rubem Dantas (percussion) – all closely associated with one of Chick's great friends, Paco de Lucía. The group is completed by drummer Tom Brechtlein. Flamenco dancer Auxi Fernandez, who has performed with Paco de Lucía, will join the group in a special guest appearance.
Chick Corea has been at the epicenter of jazz since the 1960s, playing with Stan Getz, Miles Davis, Bobby McFerrin, Herbie Hancock, Gary Burton as well as leading a series of ground- breaking, inspirational bands of his own – from Return to Forever, the Elektric and Akoustic Bands to more acoustic settings. Touchstone is the latest in a long and very distinguished line.
Author:
World Music Central News Department
World music news from the editors at World Music Central