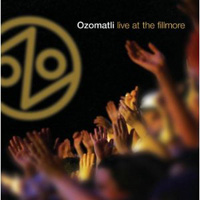 Ozomatli
Live at the Fillmore (Concord Records CCD2-2298-2, 2005)
Call Ozomatli a fusion band only if you've really got a thing for understatement. Even calling them a world music band is taking the easy way out. The strongest constant in their sound is various forms of Latin music, but this
Los Angeles-based outfit can freshen a Latin rhythm with funk, rock, Afrobeat, hip hop, Caribbean, Arabic and klezmer breezes so well it's a wonder that more bands won't (or can't) mix it up so free and easy.
An Ozomatli concert is one of the few places you'll hear a lengthy clarinet solo followed by a burst of booty shake-inducing rap (yes, they even do a good job incorporating that frequently obnoxious genre), songs that mix bilingual protest lyrics equally well with Mexican folkloric and Gnawa trance or the choppy rhythms of styles such as Jamaican reggae and Colombian cumbia joined like blood brothers.
If you've heard Ozomatli on their three studio albums and/or seen them live, you know what I mean. If you've done neither, or if you've done both and liked what you heard and saw, this smashing live CD and DVD package recorded in San Francisco (and elsewhere, in the case of some of the DVD extras) is something you absolutely must make your own. It's a look at and a listen to a band that is very much for and of our times- a musically astute, politically aware collective that jams in and out of a melting pot of racial, cultural and musical perspectives and points a few fingers at stupidity and injustice while doing it.
The CD is great, the DVD even better, the latter fully capturing the energy of Ozomatli in concert. They begin by taking the stage one at a time in a whirl of electronic and organic beats, they end by filing into the audience with percussions and horns in hand to continue the celebration in samba parade style.
At those moments and every second in between they're playing party music for the thinking man, born in the global hot spot that is L.A. [Los Angeles] and embracing the rest of the planet in spirited unity.
Buy Live at the Fillmore in North America
Buy Live at the Fillmore [CD + DVD] in Europe.
Author:
Tom Orr
Tom Orr is a California-based writer whose talent and mental stability are of an equally questionable nature. His hobbies include ignoring trends, striking dramatic poses in front of his ever-tolerant wife and watching helplessly as his kids surpass him in all desirable traits.