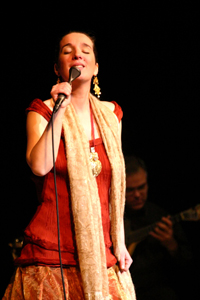 Chicago (Illinois), USA – On Tuesday, November 8 at 7 pm, the Chicago Department of Cultural Affairs presents the Chicago debut of Dulce Pontes, the international singing star, who has sung with the likes of Andrea Bocelli and José Carreras.
The concert, which takes place in the Preston Bradley Hall of the Chicago Cultural Center, 78 East Washington Street, features an eclectic mix of rock and fado as well as unusual instruments. Pontes is joined by Davide Zaccaria, cello; Paulo Feiteira, guitar; Amadeu Magalhães, braguesa guitar; and Fernando Silva, fado guitar. Admission is free.
Pontes' brilliant voice and singing are unique and unmistakable, whether she is singing rock, fado, or a song from Angola. She is constantly in search of new ways of interpreting traditional songs. She also seeks out new tones and the sound of unusual instruments, however strange they may appear or however much they have fallen into disuse. She experiments with other voices next to her own,
other tongues, other popular song traditions, and can even sing in Berber.
Pontes has performed with the Italian singer Andrea Bocelli, the Spaniard José Carreras, Cesária Évora from Cabo-Verde, and the Brazilians Caetano Veloso, Daniela Mercury, Simone and Marisa Monte, the Spanish bagpipe player Carlos Nuñez, and The Chieftains from Ireland. Her interpretation of Canção do Mar (Song of the Sea) was used on the sound track of the international version of
the Brazilian television series "As Pupilas do Senhor Reitor" (1994). The same interpretation of this song by Ferrer Trindade was chosen as the main theme of the soundtrack of the 1996 film Primal Fear by Gregory Hoblit, starring Richard Gere and Edward Norton.
In 2004 Dulce Pontes received the award for Best Latin Singer from the Spanish Phonographic and Videographic Association and the international Prémio TENCO 2004 in San Remo, Italy. Dulce won this award as "cultural operator," for reviving the works of José Afonso and Amália Rodrigues, for her sensitive and genuine interpretation of the best musical and poetic Portuguese traditions, and for her collaborations with celebrated international composers. At the award ceremony Dulce was introduced as "inventor of the new fado."
For more information about this program and future Chicago Cultural Center Presents programs, call 312.744.6630 or visit www.chicagoculturalcenter.org.
Upcoming Chicago Cultural Center Presents performances include Ustad Faiyaz Wasifuddin Dagar on Wednesday, November 9 at 7 pm.
This performance is part of Chicago Cultural Center Presents, an ongoing showcase series that highlights critically acclaimed national and international musicians who are rarely seen by Chicago audiences in mainstream venues.
Public programs at the Chicago Cultural Center are presented by the City of Chicago Department of Cultural Affairs and are partially supported by a grant from the Illinois Arts Council, a state agency.
Buy her CDs: Focus, O Primeiro Canto, Lagrimas, Best Of, Caminhos, A Brisa Do Coracao, Lusitana, Caminhos, Brisa Do Coracao – Live.
Author:
World Music Central News Department
World music news from the editors at World Music Central