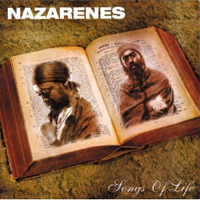 Nazarenes – Songs of Life (Heartbeat 11661-7624-2, 2005)
Taj Weekes & Adowa – Hope and Doubt (AlphaPocket Records CD 0011, 2005)
Winston Jarrett and the Righteous Flames – Survival is the Game (Young Tree Records YTR-1225 CD, 2005)
I seem to be in the midst of one of those periods where a lot of reggae is coming my way. Fine with me 'cause I love the stuff, and my habit of reviewing reggae releases en masse is once again on display. Among the riches this time are discs by promising newcomers and a mighty retrospective from an often
overlooked vet.
Ethiopia has always been a spiritual home in the Rastafarian worldview, and that foundational vibe is present on Songs of Life, the U.S. debut album by an Ethiopian-born duo who call themselves the Nazarenes. Brothers Medhane and Noah Tewolde are skilled singers, players and composers who sound as though they've been influenced as much by American soul music as classic reggae, and as a result this disc pulsates with spiritual themes (as you'd expect from the prophet-like cover photo of the two) as well as meditations on love, life and unity.
Every track on the disc is called "Song of" something, and the end result feels rather like life lessons set to reggae music. There's a lot of versatility here, from deep roots to a bright popish feel, and these brethren serve it all up expertly and from the heart. Highly recommended.
Of Ethiopian heritage but hailing from the Caribbean island of St. Lucia, Taj Weekes is presently based in New York City with his band Adowa. His sort of reggae is built around a longstanding roots-style framework, with tidy production values and a crisp rhythmic bounce that matches well with Weekes' warm, mildly urgent voice and knack for melodic and lyrical hooks.
Hope and Doubt brings reggae to the mainstream in a way that readily bespeaks Bob Marley- not about to compromise commercially though readily embracing all with ears to hear.
Songs like "Scream Out Mellow," "MPLA" and "Life" are deep but everyman-like expressions of consciousness that flow easily while providing ample food for thought. Also highly recommended.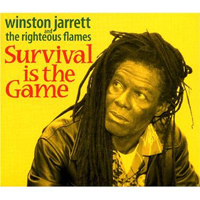 On the reggae scene for considerably longer than the above two is Winston Jarrett, once a member of legendary Jamaican singer Alton Ellis' backup group the Flames and still an accomplished vocalist in his own right. With the two-CD set Survival is the Game, many of his previously hard-to-find songs are now compiled for the first time. And that's a blessing.
Covering a nearly 30-year period, the tracks here (some previously unreleased or never before on CD) include rock solid roots, lovers tunes, dubs and a very complete picture of a strong, committed singer deserving of such a retrospective. Factor in backing by the Wailers and Roots Radics bands, lyrical and musical references to Bob
Marley and Peter Tosh, the recasting of familiar riddims from Studio One and beyond and contributions by Jackie Mittoo and King Tubby, and you've got a killer release that no reggae fan should pass by. Survival has indeed been the game for Winston Jarrett, and he's winning.
Buy Nazarene's Songs of Life, Taj Weekes' Hope & Doubt, and Winston Jarrett 's Survival Is the Game.
Author:
Tom Orr
Tom Orr is a California-based writer whose talent and mental stability are of an equally questionable nature. His hobbies include ignoring trends, striking dramatic poses in front of his ever-tolerant wife and watching helplessly as his kids surpass him in all desirable traits.