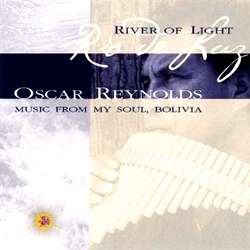 California, USA – In celebration of Latin Heritage Month, Bolivian composer, master Andean flutist and guitarist Oscar
Reynolds will be touring Northern California with Hispanic master musicians in the next days. The tour also celebrates Reynolds' latest release, Río de Luz/River of Light.
The tour and CD features all-original repertoire that blends Bolivian, Afro-Peruvian and Flamenco traditions: polyphonic rhythms; Flamenco, Peruvian, and South American guitar; charango; and haunting melodies on Andean panpipes. Bolivian antara (panflute) master Oscar Reynolds, known for his uniqueness playing the Bolivian pan flutes and guitar simultaneously, will perform with the best Hispanic musicians, including flamenco guitarist Chuscales, from Antequera, Spain. Other South American masters performing are cajón master Lalo Izquierdo, one of the founding members of Perú Negro; Bolivian master percussionist Fernando Sanjinez ; legendary Peruvian guitarist Santiago "Coco" Linares; and Bolivian charango master José Luis Reynolds.
Traditional dancers form part of the tour to showcase how music and dance are intertwined and inseparable in Hispanic traditions. Bolivian native dances from the plains and jungles, African-influenced dances from the coastal villages in Peru, and gypsy festivities in Spanish caves come to life with the special participation of international flamenco dancer Mina Shibata Valle Fajardo, who makes her San Francisco debut, Afro-Peruvian dancers, and Bolivian dancers from the group Renacer Folklórico Bolivia.
Reynolds' compositions are fearlessly innovative, crossing cultural borders while remaining strongly rooted in tradition. His music reflects the continuous, dynamic, and ever-changing tradition in Bolivian music from the Spanish conquest of the Americas to the present. Joining Bolivian, Afro-Peruvian, and Spanish cultures through music, Reynolds brings Bolivia, Peru, and Spain together, not as the conquered and conquistador, nor as separate countries, but as one Hispanic culture rich in art and creativity.
Tour Schedule:
September 24, California Academy of Sciences, San Francisco, 2:30 P.M & Hillside Concert Series, Berkeley, CA, 8 P.M.
September 30, Clarion Music Center, San Francisco, 8 P.M. Call 415-391-1317
October 12, Santa Clara University 12 P.M.
October 15, Central United Methodist Church, Sacramento, 7:30 P.M. benefiting the H Street Festival Call 916-457-3337
October 16 Mendocino Art Center, Mendocino, CA, 3 P.M.
October 20, Montgomery Theater, Downtown San Jose, 8 P.M. Call 877-898-6025 presented by Soul del Arte
October 21, Green Room in the Veteran's Building, San Francisco, 8 P.M. Call 877-898-6025, presented by Soul del Arte
October 22 Chico Women's Club, Chico, 8 P.M. Call 877-898-6025, presented by Soul del Arte
November 4, Miner's Foundry Cultural Center, Nevada City, 8 P.M. Call 877-898-6025, presented by Soul del Arte