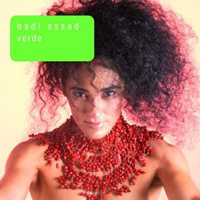 New York (New York), USA – The new album by Brazilian singer and guitarist, Badi Assad (pronounced Bah-Jee Ah-Sahje) will be in stores today. Verde (Deutsche Grammophon / eDGe Music) is her first solo album in six years.
Verde contains 17 tracks, including covers ofU2's "One" and Bjork's "Bachelorette. "Green stands for the forest. Green stands for Brazil. Green stands for photosynthesis. Green stands for wood that's still damp – in other words, not for a product but for a process. Green is wonderful. Green is hope and green is harmony. When you observe the rain forest from a distance, you see perfect harmony. Only when you get closer do you notice the various shades of green. I think this CD has very similar features. There's an overriding harmony of color, but each piece has a different shading." (Badi Assad)
With Green, Badi Assad is not only working with the immense wealth of Brazilian styles and rhythms, but also tapping into the resources of jazz and classical music as well as con-temporary pop and rock.
Several great musicians contributed their musical talents to help Badi's vision come to life including; Brazilian icon Toquinho (best known for his collaboration with bossa poet Vinicius de Moraes) on the guitar duet "Implorando (Begging)" and her nieces Carline and Clarice help with vocals on "Viola Meu Bern (Guitar My Love)." Jeff Young co-wrote "The Being Between (or "Daruma") and
"Nao Adianta (It's No Use)." Stand- out tracks "Basica (In My Little White Top") and "Voce Nao Entendeu Nada (You Didn't Get It)" show Badi's sultry, sexy side while "Nao Adianta (It's No Use)" and "Asa Branca (White Wing)" are playful and upbeat with the use of mouth and body percussion.
Buy Verde
Author:
World Music Central News Department
World music news from the editors at World Music Central