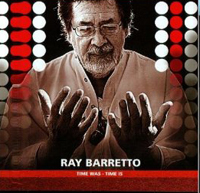 Ray Barretto – Time Was-Time Is (O+ Music OP109, 2005)
Tito Puente – The Rough Guide to Tito Puente (World Music Network RGNET 1162 CD, 2005)
Great percussion is essential to Latin music, its complexities both foundation and framework. It's what drives and navigates the music, ever determining where it's headed next. Rooted in Africa and refined only in the best sense of the word, the rhythms of Latin jazz and its offshoots can be a singularly dazzling or sublime listening experience. Veteran conga player and bandleader Ray Barretto is shown staring intently at his hands on the cover of his new CD Time Was-Time Is, as if he's wondering if they've still got it. Have no fear. The 76-year-old Barretto has most certainly still got it, the superb skin-on-skin chops he's exhibited in his half-century career (encompassing both his own recordings and in the company of greats like Cal Tjader, Art Blakey, Kenny Burrell and the Fania All-Stars) assuredly intact. In recent years he's gone back to his roots in bebop-flavored offerings, and this new disc dazzles with that creative spark.
Opening track "Drume Negrita" wastes no time mixing congas, bell and chekere with effortlessly cool piano, bass, and horns into an infectious medium-tempo flow with a distant Afro-Cubano chant arising toward the end to signal that the spirits are indeed in the house. Similarly, the instrumental cover of
"Motherless Child" goes from pensive mystery to gorgeous deluges of percussion-led delight and pieces like the title track and "Syracuse" balance melody and mood as solos make their way around the percussion while leaving some space to let the groove luxuriate.
Barretto's joined by a superb band on this disc, many of whom had a hand in composing the original tunes that stand solidly alongside the classics. If it was indeed Barretto's intent to join yesterday's glory with that of today, the timeless music on this excellent disc shows how successfully he's done just
that. (Available in the US September 13 from Harmonia Mundi.)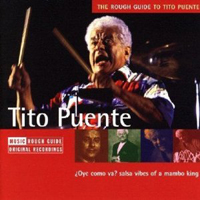 Tito Puente needs no introduction. In addition to being a master on timbales and vibraphone, the late Latin great was a superb composer and arranger with an unsurpassed ear for creating mambo, salsa (a term which, by all accounts, seriously rubbed him the wrong way), boogaloo, Afro-Cuban jazz and more. He made more than 100 albums in his lifetime, so this Rough Guide is of course just the slightest glimpse into his remarkable output. But it's a beauty, a tasty sampling of Puente from his arguably-most-creative period of the late '50s to late '80s.
The landmark, charanga-laden "Oye Como Va" is here, naturally, as are a few collaborations with Celia Cruz, some boogaloo classier than the norm, some shimmering tracks where Puente shows his often-overshadowed skill on vibes and various examples of how he brought out the best in an array of players and singers. The tracks are mostly short and snappy ones, and while I would have liked the inclusion of at least one extended knockout drum jam, it's still a killer selection with no weak spots. Recommended even if you think you've already got all the Tito Puente you need.
Buy Time Was-Time Is and The Rough Guide to Tito Puente
Author:
Tom Orr
Tom Orr is a California-based writer whose talent and mental stability are of an equally questionable nature. His hobbies include ignoring trends, striking dramatic poses in front of his ever-tolerant wife and watching helplessly as his kids surpass him in all desirable traits.