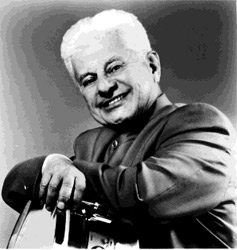 Boston (Massachusetts), USA – Berklee College of Music and La Casa de La Cultura/Center for Latino Arts have teamed up to present the Tito Puente Latin Music Series in partnership with the City of Boston Parks and Recreation Department. This four-part performance experience, honoring the musical
legacy of one of the greatest musicians of all times, Tito Puente.
The series will include two outdoor concerts at O' Day Park and two concerts inside the Jorge Hernandez Cultural Center, from July 10 – Sept. 2, all located at 85 West Newton St. in Boston's South End. A photo exhibit showcasing portions of Tito Puente's life by Martin Cohen, his concerts in Boston by Don West, and a slideshow by long time Tito Puente Orchestra member Mitch Forhman, will also be on
display at the Center for Latino Arts Gallery inside the Jorge Hernandez Cultural Center from August 3 through September 4.Admission to the park performances is free. Tickets for the indoor performances can be purchased at the Inquilinos Boricuas en Acción (IBA) offices located at 405 Shawmut Avenue, South End, Boston, Monday through Friday from 9:00 am to 5:00 pm, or at the venue's box office the night of the event. Online and phone purchases can be made through TicketWeb. For more information call 617-927-1707, e-mail:
info@claboston.org, or visit www.claboston.org.
Tito Puente Latin Music Series '05 Schedule:
Sunday, July 10, Bobby Sanabria at O' Day Park at 4:00 p.m., FREE
Latin percussionist and Berklee graduate Bobby Sanabria – who has performed with legendary musicians such as Dizzy Gillespie, Paquito D' Rivera, Henry Threadgill, Mongo Santamaría, and Mario Bauza – will play with his critically acclaimed ensemble. His group, Ascensión, has received wonderful reviews for their last CD release in Downbeat magazine, and will grace the outdoor venue for free. This year the celebration will begin with the pulse of Bobby Sanabria's Latin percussive sounds christening the South End community's newest outdoor gem, O'Day Park, informing the neighborhood that the space is open; the official park opening ceremony will take place July 23.
Thursday, July 21, Eguie Castrillo and his group at O' Day Park at 7:00 p.m., FREE
Percussionist and Berklee faculty member Eguie Castrillo – who has performed with Tito Puente, Steve Winwood, Rubén González, and Jennifer Lopez, and currently tours with Arturo Sandoval – will lead his small, Latin-jazz group
in the park.
Thursday, August 4, El Bembe Special Edition-
Cultural Center at 9:00 p.m., $25
The event will kick – off with Salsa & Merengue dance lessons at 8:00 p.m. At 9:00 p.m. Tito Puente Junior and his Orchestra will perform some of the great hits of his father's musical legacy. As is customary for the EL Bembe Latin dance parties held at Jorge Hernandez, a Salsa & Merengue disc jockey will be on hand to accompany the Tito Puente Jr. Orchestra.
Friday, September 2, Eguie Castrillo's Big Band, A Palladium Night (Style) Tribute to the Mambo Kings in the Jorge Hernandez Cultural Center at 9:00 p.m., $25
Eguie Castrillo returns with his 18-piece big band in a tribute to three seminal figures in Latin music Tito Puente, Tito Rodriguez, and Machito. The infectious rhythms of Castrillo's timbales will transport the audience back to another time and place, recreating the excitement and energy of the 1950's era, when Mambo and cha-cha-cha were all the rage. Salsa dancers will help the band invoke the spirits of these legendary Latin bandleaders.
The series marks Berklee's first large-scale concert collaboration with La Casa de la Cultura. Jim McCoy, Berklee's director for education and community partnerships states "It is a fantastic opportunity for the college to engage with the community of Villa Victoria, right down the street from
us." However, this series has an even greater significance for the center. According to Alex Alvear, Performing Arts Director at La Casa de La Cultura, "O'Day Park was renovated through support from the Boston Parks Department to become one of the few parks in Boston with a performance space, which was essential to fulfilling the founder's dream of creating a place for Latinos to share their culture, and the collaboration with Berklee has opened up the pool of resources necessary to make that vision possible."
Author:
World Music Central News Department
World music news from the editors at World Music Central