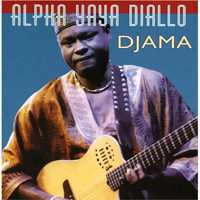 Alpha Yaya Diallo
Djama (Jericho Beach Music JBM0501, 2005)
Born in Guinea but presently residing in Vancouver, guitarist/singer Alpha Yaya Diallo gives his fifth album an acoustic, back-to-basics sparkle. It's an approach that many West African musicians have embraced of late, and whether it's reflective of Diallo getting sentimental about his homeland or simply
knowing a good thing when he sees/hears it, Djama is a winner.
Diallo's guitar playing, which has a Manding-rooted but farther-reaching feel similar to that of
Habib Koité, deftly graces the percussion, bass and second guitar accompaniment.
Some flute and balafon add color at times, sweetening a mix of tradition-fueled vocal and instrumental tunes, desert blues and a potent dose of Lusophone melancholy on "Cette Vie." Absent is the sort of generalized Afropop that Diallo occasionally had a way with on his previous discs, but it isn't really missed.
While Djama is obviously aiming for the heart and soul, its introspective nature does not preclude Diallo from giving it the right degree of musical kick. It may not turn your living room into an African dancefloor, but it certainly will grow on you. If you liked the recent unplugged stuff by Mory Kanté,Youssou N'Dour, Salif Keita and Baaba Maal, you'll like this too.
Buy Djama
Author:
Tom Orr
Tom Orr is a California-based writer whose talent and mental stability are of an equally questionable nature. His hobbies include ignoring trends, striking dramatic poses in front of his ever-tolerant wife and watching helplessly as his kids surpass him in all desirable traits.