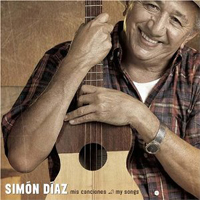 Simón Diaz
Mis Canciones [My Songs] (World Village 468042, 2005)
I don't live in Venezuela, so I'm in no position to argue with the contention that 77-year-old Simón Diaz is a superstar there. Despite my ignorance, I can say this collection of recently-recorded renditions of some of his most famous songs is quite pleasing.
Diaz was born in a small cattle town in Venezuela, a place where folkloric music was naturally very much a part of everyday life. Encouraged by his father, Diaz began playing the four-stringed cuatro at a young age, soon composing and singing his own songs.
Despite moving to the capital city of Caracas to further his musical ambitions, he remained connected to his country roots, particularly the ballad style known as tonada. It was that unpretentious country charm that endeared him to Venezuelan audiences and ultimately led to his star status not only as a singer but also an actor, comedian and musical educator. The tracks on Mis Canciones are a snappy bunch that range from graceful to stomping, built around the acoustic picking and strumming of cuatro, harp, guitar, mandolin and bass.
Diaz's voice remains expressive and supple, sometimes sounding as though he's narrating a story as much as singing a song. His easygoing grace matches his humble attitude toward a lengthy career which
has seen his songs covered by such diverse talents asCaetano Veloso, Mercedes Sosa, Tania Libertad, Celia Cruz, Ry Cooder, Rubén Blades, Plácido Domingo and the Gypsy Kings, who used Diaz's "Cabello Viejo" (included here) as the basis for their global hit "Bamboleo." That sort of notability aside, this disc has the feel of songs brought full circle, blessed with melodic strength and enduring conviction by the man who originated them. Still a country boy at heart, Diaz injects every song here- be they celebratory or melancholy in tone -with a soulful glow that's consistently warm and engaging.
Author:
Tom Orr
Tom Orr is a California-based writer whose talent and mental stability are of an equally questionable nature. His hobbies include ignoring trends, striking dramatic poses in front of his ever-tolerant wife and watching helplessly as his kids surpass him in all desirable traits.