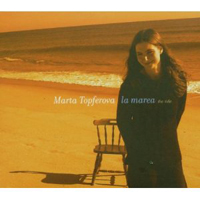 Marta Topferova
La Marea (World Village 468040, 2005)
The former Czechoslovakia wouldn't be very high up on anyone's list of Latin music hot spots, but it's where Marta Topferova was first bitten by the Latin bug. Her childhood musical studies in voice, piano and guitar were at first geared almost entirely toward the traditional repertoire of her native land (still a Communist country at the time), but some happened-upon recordings by Chile's Inti-Illimani quickly became favorites that prompted her to search further.
When her family moved from Prague to Seattle in the 1980's, Topferova was drawn to the Latino community there, absorbing all she could musically, culturally and linguistically.
Her snowballing passion for Latin music prompted an odyssey that included travels to Spain, Cuba, Puerto Rico and Mexico as well as Miami and New York City. The culmination of all this globe-trotting is Topferova's gorgeous new album La Marea (The Tide). And just as it's difficult to describe the feeling of well-being that comes with sitting and watching the tide roll in, it's difficult to categorize the music on this release.
You'll hear varying aspects of all the locales mentioned above plus unmistakable strains of Colombia and Venezuela (Topferova's main instrument these days being the four-stringed Venezuelan cuatro). This isn't Latin music in the hot-and-sweaty dance floor sense, but rather a dreamy acoustic set of songs sweetened at intervals by violin, accordion, flute, French horn, percussion and harp (brilliantly played by Edmar Castaneda with a flair far more folkloric than classical).
Topferova sings in warm, confessional tones, lovingly accentuating Spanish lyrics filled with the sort of imagery found in the poems of Federico Garcia Lorca and Pablo Neruda. Despite the range of pan-Latin elements at work, the entire disc flows seamlessly along breezy streams of low-key delight. But don't sit there listening to me prattle on about how great an album this is. Instead, get your hands on it and get set for music with an unusual history but a brilliant present and future. Very highly recommended.
Buy La Marea and Sueño Verde.
Author:
Tom Orr
Tom Orr is a California-based writer whose talent and mental stability are of an equally questionable nature. His hobbies include ignoring trends, striking dramatic poses in front of his ever-tolerant wife and watching helplessly as his kids surpass him in all desirable traits.