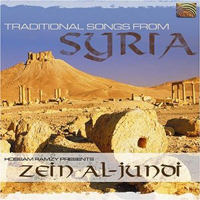 Zein Al-Jundi
Traditional Songs From Syria (ARC Music EUCD 1898, 2004)
A former child singing star in her native Syria, Zein Al-Jundi took a lengthy break from music to study architecture and design in Austin, Texas. She returned to singing in the late '90s after having founded an organization to promote global music and dance in addition to successful stints in radio, publishing and the import business. Quite the achiever, but of course we're here to focus on what she's doing with her voice nowadays.
Traditional Syrian music owes much to Arab cultures that flourished in the Middle East and Al-Andalus (medieval Spain), though lyrically the songs address a variety of topics that include love both human and divine, the longstanding splendor of Syrian culture and lightheartedness that goes a bit against the grain of the conservative Islamic society that Syria is today.
Al-Jundi's voice falls short of technical perfection but scores in conveying frailty, longing and inner resolve that bring these songs, whether based on classical, popular or folkloric modes, to life. Texture-wise, her reedy vocal quality is a warm fit with the Arabic-based acoustic instrumentation and the subtle (and sometimes not so) timing changes and rhythmic tangents the arrangements are laced with.
The players are led by Egyptian master percussionist Hossam Ramzy, who brings some of the feel of his own country through the use of a lilting string section and a fairly spacious production style. A very nice work all around, and it would be interesting to hear Al-Jundi in a more contemporary musical setting.
Buy Traditional Songs From Syria
Author:
Tom Orr
Tom Orr is a California-based writer whose talent and mental stability are of an equally questionable nature. His hobbies include ignoring trends, striking dramatic poses in front of his ever-tolerant wife and watching helplessly as his kids surpass him in all desirable traits.