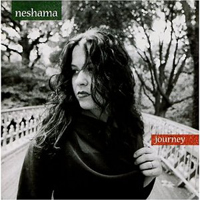 Neshama Carlebach
Journey (Sameach Music NDS2004, 2004)
The late rabbi Shlomo Carlebach chose music as his means of reaching people, composing thousands of songs and influencing followers of spiritual paths in the Jewish faith and well beyond. In the decade since his death, his daughter Neshama has been ably carrying on his musical mission.
The elder Carlebach set the teachings of the ancient Judaic texts and scriptures to music in a melodic, accessible manner appealing to the love and peace generation of the '60s who first tuned in to his teachings, and Neshama continues in the same manner. She and pianist David Morgan have arranged 11 of the rabbi's compositions into sometimes-lively, sometimes-contemplative songs that touch upon the intimacy of folk music, freewheeling jazz and rhythms evocative of eastern Europe, the Mediterranean and the Middle East. But these are songs of the spirit, and Neshama's got the needed vocal blend of chanteuse and cantor that both honors her father's legacy and puts her own stamp on the proceedings.
Singing almost entirely in Hebrew (apart from switching to English on "Return Again" and intoning wordlessly on "Niggun Neshama"), Carlebach the younger embodies the ancient and modern resiliency of
God's chosen with grace and power. Even so, she's not pointing fingers from any pulpit. Rather, the strength of these songs lies in their message of adherence to spirituality in the face of forces that would seek to shatter it. A work of grace and tranquility, very much welcome in a world with far too many axes to grind.
buy Journey
Author:
Tom Orr
Tom Orr is a California-based writer whose talent and mental stability are of an equally questionable nature. His hobbies include ignoring trends, striking dramatic poses in front of his ever-tolerant wife and watching helplessly as his kids surpass him in all desirable traits.