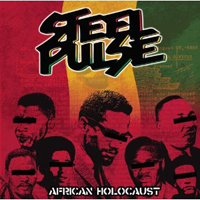 Steel Pulse – African Holocaust (RAS/Sanctuary 06076-89931-2, 2004)
Horace Andy Meets Mad Professor – From The Roots (RAS/Sanctuary 06076-89932-2, 2004)
Burning Spear – Creation Rebel: The Original Classic Recordings From Studio One (Heartbeat 11661-7664-2, 2004)
Dennis Brown Presents Prince Jammy – Umoja – 20th Century DEBwise (Blood and Fire BAFCD 046, 2004)
There's plenty of genuinely great reggae coming down the chute these days. And let's put the emphasis squarely on the "genuine" aspect here as we check into two high quality new releases from a couple of long timers as well as sumptuous reissues spotlighting classic works from a couple more.
Along with Aswad, Steel Pulse remain the primary representatives of British reggae. However, where Aswad seem to have left the roots behind for good, Steel Pulse re-embrace the foundational reggae sound and come across fresh and mighty because of it. Front man David Hinds' lead vocals retain the same soaring
flexibility as back in the band's mid-'70s nascent days, the keyboard accentuations of other remaining original member Selwyn Brown add color to the melodic hooks of Hinds' compositions and the songs themselves are the genuine article reggae this band has always excelled at.
Songs such as "Global Warning," "No More Weapons," "Darker Than Blue" and the title track address the dual concerns of today's overly militant world and the horrifying consistency with which people of African descent have been marginalized. But despite the often grim subject matter, the disc's no-nonsense reggae grooves are sharp enough to set you in motion and keep you there. Apart from one digression into dancehall ("Blazing Fire," which at least sports nicely conscious lyrics), African Holocaust easily earns a place among Steel Pulse's many notable achievements.
Though he's graying of hair and beard nowadays, veteran Jamaican vocalist Horace Andy still sings with that wonderful mixture of quivering vulnerability and and reedy authority that made songs like "Mr. Bassie" and
"Skylarking" enduring reggae classics. He's in peak form on From The Roots, with assistance from Sly and Robbie and the same musical crew who made that drum
and bass duo's recent CD The Dub Revolutionaries such a joy.
The arrangements are solidly heavy and the knowing hand of the Mad Professor never lets the sparsely spacey production detract from the beat. Whether touching upon Rastafarian-based tenets ("Babylon Bridge," "Zion the Holy Land"), dismissing superficiality ("Vanity Vanity," "Dem Lie") or wryly examining fine lines of love and longing ("For Me," "Gimmie What Me Want"), this latest from
Andy is a dandy . <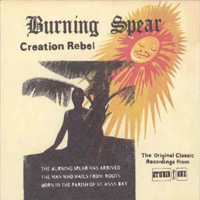 Burning Spear – Creation Rebel: The Original Classic Recordings From Studio One[/caption]For reggae fans, Burning Spear needs no introduction. Born Winston Rodney in St. Ann's Bay, Jamaica in 1945 (same place and year as Bob Marley), Spear has never faltered in his humble mission to bring high quality reggae to the world. Like many Jamaican singers, he got his start at Kingston's Studio One under the guidance of late producer Clement Dodd.
Spear's early efforts for Studio One (beginning in 1969) are essential- the work of an Afrocentric singer with an imperfect but uniguely soulful voice matched with a producer who knew precisely how to put that voice in a sonic context that echoed with the cultural connections so vital to the emerging roots reggae scene.
Many of the songs on Creation Rebel ("Door Peep," "Pick Up the Pieces," "Foggy Road," "Call On You") are ones that Spear would rework on later albums or please crowds worldwide with in his live performances. But it's here that the honing of his craft is heard
with succinct brilliance. He was young when these tracks were laid but sounds as intense as an old timer. That intensity is heightened and tightened by Dodd's airy production style and backing by some of reggae's greatest players.
After releasing dozens of reissues of Studio One material, this is the Heartbeat label's first since Dodd's death in May 2004. No reggae lover should pass it by.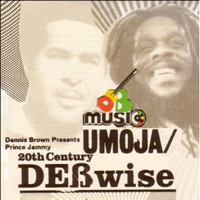 Finally, on the dub side of things, there's Dennis Brown. Brown is another reggae late great, having passed away in 1999. He excelled at the romantic reggae style called lover's rock and recorded some first rate roots and culture material as well. His renown as a singer tended to overshadow his work as a producer, though he ably played that role on many of his own recordings and those of others.
There are two late '70s dub albums combined on Umoja – 20th Century DEBwise, both consisting of tracks cut by the likes of Brown himself, the Tamlins and Junior Delgado, produced by Brown and then given the dub treatment by Prince Jammy, engineering whiz at the studio of the legendary King Tubby. There's 75 minutes of rock solid dub here, with drums and bass calling the shots and plenty of well placed guitar, keyboard and horn bursts urging things along, plus some particularly strong percussion work in the second half. Prince Jammy lays on just the right amount of murky, smoky sheen, having learned well from Tubby the master.
Another direct hit for Blood and Fire, the U.K. label that's reissued many great reggae and dub albums in the last decade.
Author:
Tom Orr
Tom Orr is a California-based writer whose talent and mental stability are of an equally questionable nature. His hobbies include ignoring trends, striking dramatic poses in front of his ever-tolerant wife and watching helplessly as his kids surpass him in all desirable traits.