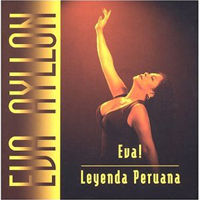 Eva Ayllon – Eva! Leyenda Peruana (Times Square Records TSQCD 9040, 2004)
Emeline Michel – Rasin Kreyol (Times Square Records TSQCD 9041, 2004)
Lhasa – The Living Road (Nettwerk ASIN BOOO2JE90Q, 2004)
So what links these three releases? Well, they're all by women from the Americas who possess remarkable voices and use them to make music that adheres to tradition on some level. At the same time, each seems to be reaching for a further, elusive level of emotive beauty via elements that take artistic vision and raise it to so much more than mere music for mass consumption.
Eva Ayllón hails from Peru and gives her music an edge that burns with the passion of that nation's indigenous and African identities as well as the festive feel brought by the Spanish. Africans began arriving in 16th century Peru as slaves; today their rhythmic legacy is most identifiably felt in the beat of the cajon, a wooden box drum that's key to the foundations of Afro-Peruvian music.
Like her compatriots Peru Negro and Susana Baca, Ayllon makes the cajon the central heartbeat of her sound. Further embellished by congas and small percussion, the stammering African-derived beats are prominent throughout the disc.
The addition of piano (not usually a staple instrument in this genre) brings a Latin jazz feel without putting too much sweetener on the traditional festejo, lando and vals styles that are becoming more familiar as Afro-Peruvian music makes its way into the world. Ayllon's singing has a majestic grace and controlled urgency that has served her well through 30 years of recording and performing, and she also sounds great branching out into salsa, bolero and Cuban territory.
Eva! Leyenda Peruana also benefits from fine acoustic guitar, bass, flute and violin work as well as input from guests like Alex Acuna, Tiki Pasillas and Peru Negro's Rony Campos. A lovely piece of work all around.
Haiti continues to be one of the most trouble-plagued countries on the planet, and some of the most defiantly beautiful music known to man continues to come from there. Emeline Michel is currently hailed as the Queen of Haitian Song, and the radiantly good Rasin Kreyol makes a strong case for her being worthy of the title. She opts for an acoustic-leaning sound for most of the disc, built around clusters of Haitian drumming and easygoing but locked in guitar, bass and keyboards occasionally graced by horns.
Michel's sandy purr of a voice gets the point across without having to go full throttle on volume or inflection, beautifying songs that celebrate Haiti's African connections, lament the ongoing plight of its people and cling to hopes for a better future. Haitian styles like compas and rara play off tempos sometimes suggestive of Afropop and reggae, complimenting the mutual sweetness of voice and groove from the outset to the gloriously rootsy concluding track "Mon Reve."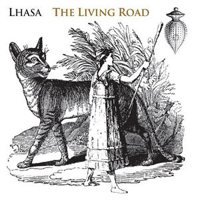 She was born near the Catskill mountains, but Lhasa de Sela (who only goes by her first name nowadays) spent much of her childhood traveling the United States and Mexico in a converted school bus with her parents and three sisters. A big part of the family's nomadic existence was the music they all listened to, including American and Mexican roots music and sounds from across Latin America, the Arab world, Eastern Europe and Asia.
All these and more figure into the tunes comprising Lhasa's second release, The Living Road. Recorded in Montreal and sung in Spanish, English and French, the disc is a completely spellbinding blend of surreal, melancholy, sensual and intensely inventive music.< You might hear strains of Tom Waits, Lila Downs or Jacques Brel in Lhasa's work, but her voice, which suggests a deep inner strength beneath the frailties you hear on the surface, is uniquely her own. The songs achieve an unusual degree of intimacy through their lack of convention- oddly wonderful horn, string and percussion textures are plentiful, with sparse electronic soundscapes providing a backdrop in which the vocals explore the space with caution but distinctive warmth.
The seven years that elapsed between Lhasa's 1997 debut La Llorona and The Living Road (she spent some of the interim as part of a traveling circus with her sisters in France) were worth the wait. With this album, she has created a uniquely stunning work that no words of mine can aptly describe. You simply must hear it for yourself.
Author:
Tom Orr
Tom Orr is a California-based writer whose talent and mental stability are of an equally questionable nature. His hobbies include ignoring trends, striking dramatic poses in front of his ever-tolerant wife and watching helplessly as his kids surpass him in all desirable traits.