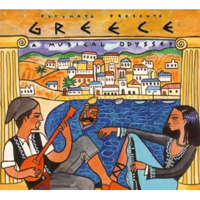 Various Artists
Putumayo Presents Greece, a Musical Odyssey (PUTU 225-2 CD, 2004)
Probably timed to coincide with the current Olympic games, this disc isn't likely to significantly shake up whatever existing notions you may have about what Greek music is and isn't. Every track is engaging, however, and despite the short running time (under 42 minutes), I'm sure that even Zeus and all his
cronies would like it.
No matter how hardcore an academic underachiever you may have been (and I certainly was), you no doubt know that Greek culture has some very ancient origins. The influencing of that culture over the centuries, courtesy of the surrounding Balkan, Turkish, Arabic and greater Mediterranean regions, has led to contemporary Greek music absorbing the best of several worlds and linking past to present in wonderful ways.
Almost every selection here was recorded within the last decade, though undercurrents of popular and folkloric fusions from considerably further back can be heard. The shimmering melancholy of Kostas Mantzio's "Eleni" references Helen of Troy in its cautionary tale, a distinct Andalusian twang propels "Ragizi Apopse" by Children of the Revolution (a U.S.-based band with Greek origins) and rhythmically sharp songs by Theodora Stiga, Kostas Makedonas and Apenanti with Melina Aslanidou combine imagery-laden lyrics and arrangements characteristic of longstanding Greek styles like rembetika, demotica and entehno. The instrumentation is largely acoustic, making for an overall sound likely to please traditionalists first and foremost.
Contemporary Greek musicians who take a more modern approach (such as the techno stylings of Kristi Stassinopoulou) are omitted, making this a musical odyssey that is less than epic in scope but does present a pleasing musical picture of a place that's been on the map for a long, long time.
Buy Putumayo Presents Greece, a Musical Odyssey
Author:
Tom Orr
Tom Orr is a California-based writer whose talent and mental stability are of an equally questionable nature. His hobbies include ignoring trends, striking dramatic poses in front of his ever-tolerant wife and watching helplessly as his kids surpass him in all desirable traits.