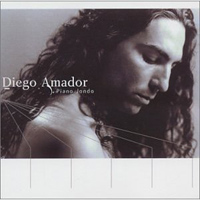 Diego Amador
Piano Jondo (Nuevos Medios/Milestone Records)

Diego Amador is a talented young Gypsy piano flamenco from Seville who seamlessly blends flamenco with jazz. His sources range from the most traditional flamenco singers to Paco de Lucía and the younger generation of flamenco guitarists, from traditional jazz greats to younger players. In terms of his style, the primary flamenco influence is modern flamenco guitar. This is an organic flamenco/jazz hybrid
displaying the most important characteristics of each musical tradition, though merged in a way possible only for someone equally conversant in flamenco and jazz.
Amador grew up in a traditional Gypsy flamenco family; his brothers created the seminal flamenco-blues fusion group Pata Negra, as a child his father played flamenco guitar in the tablaos of Seville and his cousin is a respected flamenco singer. Flamenco was part of his daily life and was especially important at family social gatherings. But already as a child Diego became enamored with American jazz and was listening to Charlie Parker, Miles Davis, John Coletrane and Thelonius Monk at the same time that he was participating in the traditional (and not so traditional) flamenco of his family and community. He has three musical loves in equal measure—flamenco, piano and jazz—and has developed a very personal style that fuses these elements into a marvelously original work.
Flamenco has several dozen distinct musical types, each characterized by its meter and rhythm pattern, harmonic structure and general atmosphere or feeling. Eight of the nine cuts on this recording follow a specific flamenco musical type. Not only are lighter music types like tangos, tanguillos and bulerías
included, but the heavier and deeper styles like soleá, taranta and even seguiriya are featured. This is spare, acoustic flamenco, with piano dominating supported by bass and restrained percussion.
An especially flamenco touch is the addition of flamenco hand clapping (palmas) and flamenco dance solos on some of the more rhythmic numbers. Every piece is played with strict adherence to flamenco rhythmic structure, often a 12-count cycle. But let there be no mistake, jazz permeates every aspect of this album. The harmonies, many of the melodies and the abundant free improvisation boldly infuse jazz into the flamenco on this recording.
A standout number is ¡Vivan los gitanos!, a 12 1/2 minute bulerías tour de force. Amador structures this number around brief quotations from Duke Ellington's "Caravan", but played in the bulerías 12-count rhythm. Alternating with these familiar quotations are more abstract passages where personal expression is at a premium. Towards the end of this number Amador blows the roof off by letting the infectious repeating rhythm cycle, driven by palmas and percussion, dictate as he takes drum sticks and plays the piano strings like a melodic percussion instrument! The sound of the sticks on the strings gives the playing a whole other, very exciting dimension never before heard in flamenco.
Diego Amador is a true musical original. It is impossible to separate out where the flamenco ends and the jazz begins they are so intimately entwined in his work. Piano Jondo is the most sophisticated and satisfying fusion of flamenco and jazz to date
Buy Piano Jondo
Author:
Marie Jost
Marie Jost received her doctorate in art history from the University of North Carolina at Chapel Hill. She is a flamenco and world music aficionado, a Hong Kong film enthusiast, and an ardent Leslie Cheung fan. Ms. Jost currently resides in Chapel Hill, North Carolina, U.S.A.