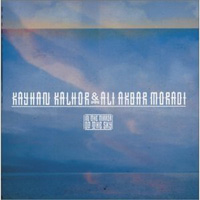 Kayhan Kalhor and Ali Akbar Moradi
In the Mirror of the Sky (World Village 468030, 2004)
Presumably for reasons of strict adherence to musical decorum, the kamancheh (a vertically played spike fiddle) and tanbur (three-stringed lute) have never been played in tandem. Both are found in present-day Iran, though the tanbur stems from Kurdish tradition and the kamancheh's roots are Persian. Because the Kurds have no independent state, their music tends to blend with the cultural and spiritual leanings of nations where Kurdish populations are significant.
In Iran, the tanbur became a sacred instrument in the Islamic Sufi sect and thus remained acceptable as the country's transformation toward theocracy took hold. Meanwhile, because of the kamancheh's status as a unique expression of Persian classical music, it's remained an instrument that is revered if not necessarily in vogue.
Kayhan Kalhor is a wizard of the kamancheh, as his playing with such renowned ensembles as Dastan, Ghazal and Masters of Persian Music will attest.
Ali Akbar Moradi has an encyclopedic knowledge of all 72 established modes of the tanbur repertoire as well as a keen sense of how to make the instrument produce a wonderful array of sounds.
Though the songs on In the Mirror of the Sky are improvisations, Kalhor and Moradi are fully attuned to the set structures that make such improvising possible within both Kurdish and Persian classical music. It's all a much more complicated mix of academic and free
spirited than I could ever hope to explain. Just latch onto this disc and prepare to be entranced.
The 10 tracks are seamlessly connected, with Kalhor and Moradi embracing each other's mystical tones from the introductory "Sar Aghaz" straight through to the whirling dance of "Choopi." En route they're joined by Pejman Hadadi on the tombak drum, adding dimension and depth that's also served by a few emerging vocal interludes by Moradi. Like the savory Persian/Indian mix that comprised
Ghazal's 2003 album The Rain, In the Mirror of the Sky takes an atmospheric, at times delicately cautious but ultimately ecstatic journey of pure musical kinship.
Author:
Tom Orr
Tom Orr is a California-based writer whose talent and mental stability are of an equally questionable nature. His hobbies include ignoring trends, striking dramatic poses in front of his ever-tolerant wife and watching helplessly as his kids surpass him in all desirable traits.