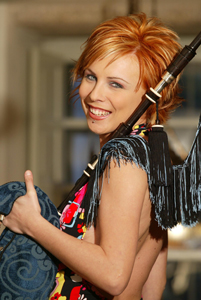 Various Artists
Buena Musica, The Independent Spanish Music (BOA,
2003)
This CD compilation celebrates the 10th anniversary of BOA Records. BOA is a company dedicated to recording Spanish artists and distributing music by Spanish labels, majors and independents, worldwide. Their stable of musical acts is extremely eclectic—BOA is the front runner of Hip Hop in Spanish, is home to a number of Celtic performers, and also features fusion, electronica, flamenco, metal, jazz, reggae and world music acts. In addition, BOA publishes a weekly internet newsletter in Spanish, and a biweekly one in English. A good deal of this diversity is showcased on this compilation disk that features 15 BOA recording artists and musical groups. Galician music is the most represented, with a total of four cuts by four different artists or groups. The pipers (gaiteros) Berrogüetto and Susana Seivane fall in the pop Celtic side of the spectrum, while Rodrigo Romaní and Sondeseu are more rooted in traditional Galician Celtic music.
There are two flamenco tracks—Elena Andujar performs a pop tango number that is a good example of the modern flamenco scene, while the Jerez patriarch Manuel Agujetas sings a most traditional soleá por bulería. This is, in fact, the most traditional cut on this sampler and one wonders what other traditional gems may be lurking in the BOA catalog.
Traditional music gets a modern make-over by Eliseo Parra who wraps his traditional Spanish folk music in a cloak of many musical colors—world beat traditional Spanish, if you will. The concept is well executed, but one is left wanting to hear more unadorned Spanish folk music, so little known to foreign audiences, rather than what we have here—a beautiful traditional number adorned, though not improved, by borrowed finery.
The contemporary music scene of young Madrid is well represented by Wax Beat, who owe their greatest allegiance to European electronica. Typical of the genre, the vocals are sung in English. Electronica is an international genre and there is nothing particularly Spanish to be discerned here, though lovers of
electronica might want to give this group a listen.
Reggae represents a major interest of the BOA label and it is exemplified by Cañaman—whose own vocalist sings in Spanish, while Jamaican guest artists perform in English. A hybrid that demonstrates just how international Jamaica's musical heritage has become. Desechos, another Spanish group featured on this compilation, fuses reggae with indie rock for an in-your-face hard-hitting sound.
Skalariak is, as the name suggests, a ska group, but a Spanish ska group. They combine ska with Catalan rumba and, because they draw on many of the same sources, end up sounding a lot like some of the ska-fueled music produced by Mano Negra and Manu Chao.
One of the oddest Spanish groups represented on this CD has to be Cows in Love. They play traditional devotional music of the Hare Krishnas combined with Western beats and electronic instrumentation. The influence of trance is apparent on this six-and-a-half minute number.
Finally, experimental rock by 12twelve and industrial metal by Fatum complete this far-reaching survey of music produced by the BOA label.
Anyone who thinks Spanish music is only flamenco and Galician Celtic will think again after even the most cursory listen to this survey of the BOA catalog. The diversity of styles embraced by Spanish musicians is quite impressive and demonstrates yet again the restless musical investigation that has characterized Spain for the past 20 years. Indeed, for over a millennium the territories that today comprise the political entity we call Spain have been renowned for the quality and diversity of their music. Buena Música: The Independent Spanish Music demonstrates how this tradition has been carried into a new millennium.
Author:
Marie Jost
Marie Jost received her doctorate in art history from the University of North Carolina at Chapel Hill. She is a flamenco and world music aficionado, a Hong Kong film enthusiast, and an ardent Leslie Cheung fan. Ms. Jost currently resides in Chapel Hill, North Carolina, U.S.A.