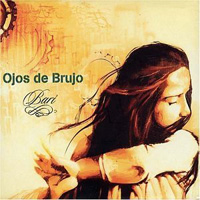 Ojos de Brujo
Bari (Europe: La Fábrica de Colores/USA: World Village 468024, 2004)
Flamenco ain't what it used to be, and if the purists want to grumble while the rest of us stamp our feet and swivel our hips, so be it. The embellished style that has come to be known as rumba flamenco is marked by the addition of Latin percussion, Gypsy flair, Arabic shadings, more experimental arrangements and less rigidity than the traditional stuff. The commercial popularity of the Gipsy Kings in the late '80s brought rumba flamenca front and center, with others like Los Activos and Javier Ruibal effectively exploring possibilities more recently. But it's Spain's Ojos de Brujo (Eyes of the Wizard) who've emerged as the prime envelope-pushers of the movement.
They started as an informal pickup band in the '90s, growing tighter and more assured as they've evolved into a solid recording and performing unit. Their take on flamenco involves driving it through a labyrinth of funk, rock, hip-hop and electronic turns without ditching the basics or the recent additional developments mentioned above. Sounds tricky in concept, but one spin of this disc will show how explosive it sounds in reality. Acoustic guitars and hand percussion (primarily cajon and conga) lead the charge, urged on by bursts of turntable scratches, palmas (handclaps), bass and sparse strains of techno.
The vocals, handled mainly by by a Gypsy/punk-attired gal named Marina "la Canillas" as well as being passed around some, take the same unpredictable path as the supporting instrumentation.
When the band seems to tire of burning their way through an expertly played passage of straightforward rumba flamenco, they'll throw in a dose of, say, rap or reggae attitude without fully (i.e. shamelessly) appropriating them. In short, they know what works and how much of it to use. And they go further–an
Indian tabla here, a guest vocal by Senegal's Cheikh Lo there–to show they're a band not just working in the service of one genre and its offshoots, but the world beyond as well. Bari is a great release on all counts, and Ojos de Brujo are likely headed for even greater things.
Author:
Tom Orr
Tom Orr is a California-based writer whose talent and mental stability are of an equally questionable nature. His hobbies include ignoring trends, striking dramatic poses in front of his ever-tolerant wife and watching helplessly as his kids surpass him in all desirable traits.