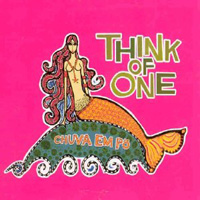 Think Of One
Chuva Em Po (Zonk Records LCM 100036, 2004)
After three album's worth of cleverly mixing their eccentric Euro-jazz with Moroccan music, Belgium's Think Of One now turns their sights toward Brazil. It's the African-inspired rhythms of the northeast that their collective fancy is focused on, what with that particular groove aesthetic having fueled some
particularly potent fusions lately.
Augmenting their guitars/drums/brass lineup with veteran Brazilian vocalist Dona Cila Do Coco and some singers and players from the band of master percussionist Nana Vasconcelos, Think Of One dig in and
let the mutual creativity roll.
The results, laid down at a studio in Recife, are thrilling. A loose and freespirited feel prevails, underpinning tracks like "Disciplinador" (some great cuica work on that one), "Paleto" with its easygoing sparkle and the slightly warped bossa jazz of "Sideways Swimmin'."
True to the band's moniker, the connection and kinship they obviously feel for Brazilian sounds both vintage and contemporary (check the likes of "Frevo Pinguin" for the latter) shine through. Thunderous percussion, deft horns and insistent vocals are plentiful, easily trouncing a few chaotic moments such as when the guitarist seems to think he's playing in an '80s metal band. Whether this turns out to be the beginning of another trilogy for Think Of One or a strictly singular piece of work, it's
quite fine.
Author:
Tom Orr
Tom Orr is a California-based writer whose talent and mental stability are of an equally questionable nature. His hobbies include ignoring trends, striking dramatic poses in front of his ever-tolerant wife and watching helplessly as his kids surpass him in all desirable traits.