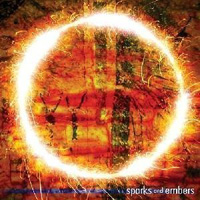 William Eaton Ensemble
Sparks and Embers (Canyon Records CR 7061, 2003)
"File under new age" states the fine print on the back of this double CD set, and since it would be a bit baffling to put something like "file under semi-improvised inventive acoustic fusion music that happens to have a meditative quality to it," I guess we'll have to go with easy categorization.
William Eaton has been a builder and player of stringed instruments for over 30 years. Several of his wonderful hybrid creations, including the predominant lyraharp guitar, are heard here. Ably assisted by violinist Allen Ames, percussionist Will Clipman, vocalist/bassist/flutist Mary Redhouse and flutist Claudia Tulip, the sound emerges as a kind of global chamber music.
There's a recurring Native American feel (not surprising, since Canyon Records is primarily a Native American music label) brought about by the dreamlike flutes and Redhouse's otherworldly tribal vocalizations, but this music goes wherever the talent and vision of the participants can take it.
Though jazz, folk, classical, African and other territories are passed through, the focus is never easily foreseeable and thus consistently interesting. Call it mellow, laid back, low key or anything of the sort. It's got a beauty all its own, ranging in tone from warm and inviting to borderline eerie. At over two hours long it may be a bit much to listen to in one sitting, so dole it out however you see fit. But do put it on your list of gotta-gets if you like music that both relaxes and challenges.
The sonic sweep and swing of Eaton's axes (including some electric guitar injections) are both foundation and guiding force, and the cleverly flowing embellishments of the ensemble keep time and space steady just as often as they mess with them.
Apart from previous William Eaton Ensemble albums on Canyon, Eaton has had a hand in several other noteworthy releases for the label. The trio discs on which he performs with Clipman and Native flute master R. Carlos Nakai are recommended along with one in which the three are joined by Tibetan flutist Nawang Khechog.
Sparks and Embers is an ample and enjoyable addition to the body of work of this uniquely fine musician.
Author:
Tom Orr
Tom Orr is a California-based writer whose talent and mental stability are of an equally questionable nature. His hobbies include ignoring trends, striking dramatic poses in front of his ever-tolerant wife and watching helplessly as his kids surpass him in all desirable traits.