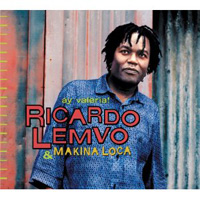 Ricardo Lemvo and Makina Loca
Ay Valeria! (Mopiato Music MOPI-1991, 2003)
Congolese vocalist Ricardo Lemvo and his band Makina Loca are based in Los Angeles, but they do their share of getting around. Good thing, because in concert they're hotter than a three-alarm fire. But if you've not yet had the opportunity to catch them live, you're still in luck because their albums keep
getting better and better. Lemvo continues his association with right-hand man Jesus Perez on Makina Loca's fourth release, Ay Valeria!!, turning the heat ever higher as always. Perez's range as an arranger, composer, producer and instrumentalist perfectly compliments the power and emotion of Lemvo's
multilingual voice as well as his far-reaching outlook. So while the key component in the sound remains African salsa, rich undercurrents of soukous, Lusafrican music and the Caribbean bring increased
splendor. There's not a moment on Ay Valeria! that's less than totally savory.
Listen to how the two versions of the title track both swing with their respective cultural dynamics, how romanticism is never sacrificed in favor of inventive rhythm (or vice versa) regardless of the songs' subject matter, how well the originals stand alongside covers of tunes by Sam Mangwana and Bopol
Mansiamina and how a peak level of energetic fun is maintained throughout. Or better yet, just get this cd and listen. Along with Africando's new release, it's one of the best Afro-Latin offerings currently out there.
Author:
Tom Orr
Tom Orr is a California-based writer whose talent and mental stability are of an equally questionable nature. His hobbies include ignoring trends, striking dramatic poses in front of his ever-tolerant wife and watching helplessly as his kids surpass him in all desirable traits.