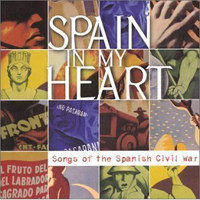 Various Artists
Spain in My Heart: Songs of the Spanish Civil War (Appleseed Recordings, 2003)
Spain in My Heart: Songs of the Spanish Civil War, set for release at the end of September 2003 by Appleseed Recordings, features new recordings of time-honored, Spanish Civil War songs and some new songs inspired by a look back at the incredible loss and destruction of that war. Seen through an international lens, this CD compiles just some of the voices of the more than 45,000 volunteer soldiers from more than 50 countries that fought against General Francisco Franco and the fascists.
Spain in My Heart isn't a rah-rah war chest of battle tunes, but rather veers off the beaten path toward the poignant and sorrowful tunes that any war produces. The international circle of musicians and songwriters assembled for this CD is inspiring. Folk music fans are sure to delight in the star-studded lineup Spain of My Heart offers.
Folk masters Pete Seeger and Arlo Guthrie lay the foundation of the CD with "Jarama Valley," the tune most will recognize as "Red River Valley." The song features Pete Seeger with spoken word sections that gives a little bit of his own history and his recordings of songs of the Spanish Civil War that made its way through the Spanish underground. Michele Greene sings "En La Plaza De Mi Pueblo" with Martin Cohen on flamenco guitar and Michael Spiro providing palmas. John McCutcheon lays down a version of his "The Abraham Lincoln Brigade" and Nicaragua's Guardabarranco lulls the listener with "Asturias."
Of particular note is Spain's Uxía with her versions of "García e Galán" and "Los Marineros." Eliseo Parra, also from Spain, beguiles with "Llegó Con Tres Heridas" with words by Spanish Republican poet Miguel Hernández. "Noche Nochera" sung by Katia Cardenal, half of the brother-sister duo of Guardabarranco, is a haunting piece with the words of Spanish poet Federico García Lorca. Shay Black of Ireland's Black Family and Aoife Clancy, daughter of Bobby Clancy of The Clancy Brothers sing "Viva La Quinte Brigada."
The CD also features L.A. based Quetzal with "Si Me Quieres Escribir", Joel and Jamaica Rafael of the Joel Rafael Band with Los Cuartro Generales, fiddler and singer Laurie Lewis with "Taste of Ashes" and Mexico's Lila Downs with "El Quinto Regimiento." As an added bonus, the CD comes with a 24-page booklet with artist biographies, song histories and pictures and posters of the Spanish Civil War.
For folk fans and those still out there "fighting the good fight" Spain in My Heart will be a welcomed addition to their collection, but for those seeking energetic fight songs they should look elsewhere.
Author:
TJ Nelson
TJ Nelson is a regular CD reviewer and editor at World Music Central. She is also a fiction writer. Check out her latest book, Chasing Athena's Shadow.
Set in Pineboro, North Carolina, Chasing Athena's Shadow follows the adventures of Grace, an adult literacy teacher, as she seeks to solve a long forgotten family mystery. Her charmingly dysfunctional family is of little help in her quest. Along with her best friends, an attractive Mexican teacher and an amiable gay chef, Grace must find the one fading memory that holds the key to why Grace's great-grandmother, Athena, shot her husband on the courthouse steps in 1931.
Traversing the line between the Old South and New South, Grace will have to dig into the past to uncover Athena's true crime.