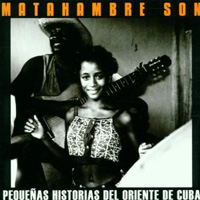 Matahambre Son, Short Stories About Cuba (Danza y Movimento, 2002)
I want to tell you a story about a small village, a village in the Santiago de Cuba region of Cuba. Long ago, according to legend, soldiers came to this village looking for food. As luck would have it, beautiful mango trees lined the main street of this village. The soldiers plucked the ripe fruit and filled their bellies. It is said that from then on the village became known as Matahambre – the place where hunger ends.
Life went on in the little village. Most of the people worked growing fruit or coffee. They worked in the fields and celebrated with fiestas and dances. Following them everywhere were the sounds of the musical tradition known as Son. Because the village was poor and had no cultural centers, the people made up their own songs and their own rhythms.
Now in this village lived a radio and television engineer named Angel Faez, who could write and arrange music and play the guitar. Then, there was Alexis Vásquez who could play the double bass and Oscar Vásquez who could play the tres. There was also a welder named Raudel Garzón, who played bongos and a carpenter named Pedro Correoso, who was a fine percussionist. Lastly, there was a topographer named Gilberto Carbonell, who just so happened could sing quite nicely and compose songs. These fellows got together and started to play, often making up their own songs about people in the tiny village. They sang songs about people they knew and village life around them. These fellows became Matahambre Son.
The story might have ended there in the little village without you or I even knowing about this remarkable group, but there's always a fairy godmother in these stories. Actually, it was a fairy godfather of sorts. José Ochoa, famed member of the Buena Vista Social Club, turned up one day in Matahambre heard music coming from the front porch of the house. José Ochoa knew a good thing when he heard it and convinced the German label Danza y Movimiento to go to Cuba to record this wonderful group.

Matahambre Son is a collection of songs written by the group's members and produced by Mattias Möbius and José Ochoa Bustamante. The songs are delightful and vibrant.
Tracks like "Los Pollitos," "Pensando" and "La Mulata y su movimiento" are sure to charm even the fearful out onto the dance floor. As a bonus the CD comes in a booklet with the story of Matahambre Son with stunning photographs of the musicians and the people of Matahambre by Susanna Rescio. Matahambre Son is proof that sometimes big things happen in small towns. And that makes a good story.
Author:
TJ Nelson
TJ Nelson is a regular CD reviewer and editor at World Music Central. She is also a fiction writer. Check out her latest book, Chasing Athena's Shadow.
Set in Pineboro, North Carolina, Chasing Athena's Shadow follows the adventures of Grace, an adult literacy teacher, as she seeks to solve a long forgotten family mystery. Her charmingly dysfunctional family is of little help in her quest. Along with her best friends, an attractive Mexican teacher and an amiable gay chef, Grace must find the one fading memory that holds the key to why Grace's great-grandmother, Athena, shot her husband on the courthouse steps in 1931.
Traversing the line between the Old South and New South, Grace will have to dig into the past to uncover Athena's true crime.