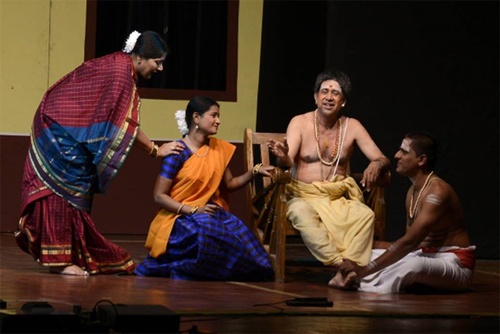 Saint Tyagaraja strode the field of Carnatic music as a colossus. While there is no way of establishing how many kritis he actually composed (estimates vary from 6000 to 24000, but less than a 1000 are extant), there is no doubt about the extraordinary influence he had on the development of Carnatic music practice.
T V Varadarajan and his devoted team have put together important and interesting events from the saint composer's life in the form of an eponymous musical play. It is creditable that a play lasting over two hours manages to keep the audience glued to their seats. This was demonstrated by TVV's team, for the 109th and 110th times, at the Krishna Temple in Muscat on 11th and 12th of January 2018.
Tyagaraja (1767 – 1847) lived in South India in times when the Bhakti movement was in full swing. Kings and commoners alike believed in a Supreme Being and lived their lives in accordance with the tenets of Sanathana Dharma. For Tyagaraja, the Supreme Being was Lord Rama, in the form of a vigraha (statue) in his prayer hall. There was no room for anything else in Tyagaraja's life.
Ascetic to the core, indifferent to the possibilities of encashing his talent with the local rulers, he lived as if in a trance, truly believing in his Rama, unshakable in his belief that He would provide deliverance from the mundane existence on earth. Naturally, this led to conflicts with his own kith and kin, who were more of a materialistic bent. All this and more from the saint composer's simple yet event filled life were shown on stage with remarkable clarity by Varadarajan's team. There was no hint of unnecessary dramatization, no meaningless exaggeration or populist twists.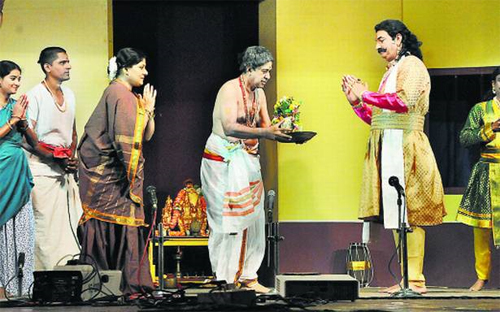 The entire cast demonstrated their total commitment to the play – this was not a performance for earning kudos for them – this was duty fulfilled, time and again, commemorating the great soul whose story they felt honored to depict on stage. Varadarajan lives the part of Tyagaraja in every syllable, every move, every muscle and sinew. His portrayal of Tyagaraja's anguish when he finds his beloved Rama taken away from him had many in the audience wiping away tears. That he continued in the bard's garb during the presentations after the play, was ample evidence of his total devotion to the storyline. Indeed, he said in his thanksgiving speech that his team had decided not to dilute their commitment by doing other plays while engaged in this labor of love.
Every single character was portrayed by the artistes with utmost professionalism. The timing and lip sync of the various singers was so accurate, it was difficult to believe they were not actually singing one beautiful composition after another. Every actor on stage was alive and involved, adding value to emotions conveyed by some superlative dialogues. And the genius of Bombay Jayasree Ramnath shines right through the play in the lay out of the music and the choice of kritis.
Everything, from the selection of the songs to the extent of its portrayal was just apt. She along with other singers (OS Arun, Kunnankudi Balamuralikrishna, Vignesh Ishwar, and others), have done a remarkable job of providing the necessary background music.
There have been movies made – very well made indeed – on the saint composer's life in the past. But to do it more than a hundred times on stage calls for a level of devotion that can only come from a team committed to the cause. This writer came away drained – and extremely contented – from the experience. The organizing team, comprising of Venkatesh, Savithri Raghu, and others deserve whole hearted thanks for their wonderful Pongal gift to the discerning Muscat audience.