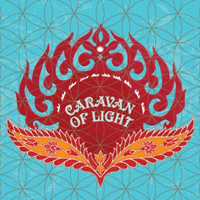 Various Artists
Caravan of Light (Quango Music/Lua Productions LUA 110, 2007)
Nothing too pretentious here, just a selection of global music (subtitled Incantation) mixing the old and new, meant to permeate mind and spirit and likely to have you entranced or dancing depending on which track is cued up.
The opening "Fire Within" by Sussan Deyhim and Richard Horowitz rumbles like a Sufi meditation from the earth's core, Maharaja's "Maro Jailo (Piki Chapell Remix) gives a good idea of what qaawali would sound like in outer space, Turkish master musician Omar Faruk Tekbilek undergoes a techno makeover that doesn't dampen his winning mysticism, and heartfelt offerings by Haale, Stephen Kent and Mercan Dede with Azam Ali are likewise alive with modern sparkle in the service of ancient soul.
Half the tracks are remixes, a fact that ought not deter purists. The intent on this disc is one of enhancement, not indulgent contemporary smothering.
Nicely paced and pleasingly varied, Caravan of Light journeys to many a well-lit place. Oh, and there's an accompanying DVD, Initiation, which in the words of the liner notes is "A story told by Fire herself." Accompanied by a dozen minutes of enhanced footage of flames, sparks, embers, frame drumming and trodding feet in the Iranian desert, a poetic recitation on the nature of fire as a substance that can both help and harm is delivered.
Mankind is urged to choose its use of fire (literal and figurative) wisely. Rooted in Zoroastrianism but with a cautionary word for all, Caravan of Light is sufficiently spellbinding if a bit of a lark. Watch it as a mood-setter before listening to the music, which is what truly makes the 2-disc set worthwhile.
Buy Caravan of Light.