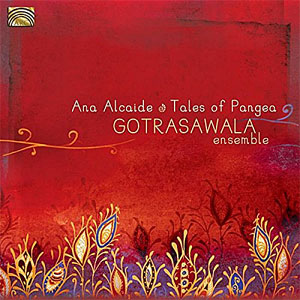 Ana Alcaide
Tales of Pangea (Ana Alcaide TP01/ARC Music, 2015)
We received two versions of this album, the original Spanish edition and the international release by Arc Music. Ana Alcaide is the remarkable Spanish world music artist who uses the traditional Swedish instrument called nyckelharpa to explore the musics of Spain, the Mediterranean and beyond. On this project, Ana traveled far away to Southeast Asia to collaborate with Indonesian musicians.
Ana Alcaide spent time in West Java (Indonesia), collaborating with local musicians to develop a fusion on Eastern and Western influences. The project came about when Franki Raden of Gotrasawala Festival invited Ana Alcaide to collaborate with Sundanese musicians. Ana worked with a collective of local musicians that was named Gotrasawala Ensemble.
The recording sessions took place in Bandung (West Java) and San Martin de Valdeiglesias (Madrid) with a mix of original compositions by Ana Alcaide, Rudi Rodexz and traditional pieces. The result is a beautiful set of melodic musical pieces where the distinct flavor of Asian bamboo flutes, percussion, vocals and zithers meets the European folk and classical traditions, jazz, and the mesmerizing hurdy gurdy-like sound of the nyckelharpa.
The lineup on Tales of Pangea includes Ana Alcaide on nyckelharpa; Bill Cooley on psaltery, ud, clay pot; Novi Aksmiranti on vocals; Rudi Rodexz on bansing (bamboo flute), kecapi (Indonesian zither), Hang drum, vocals; Riky Oktriyadi on kendang (barrel drum), selentem (gamelan metallophone), frame drums, hand percussion; Rudini Zhiter on kecapi (Indonesian zither); Iman Jimbot on suling (bamboo flute), vocals; and Ray Sandoval on Spanish guitar.
Tales of Pangea is a splendid album by a groundbreaking artist in the current world music scene.
Buy Tales of Pangea in North America
Buy Tales of Pangea in Europe