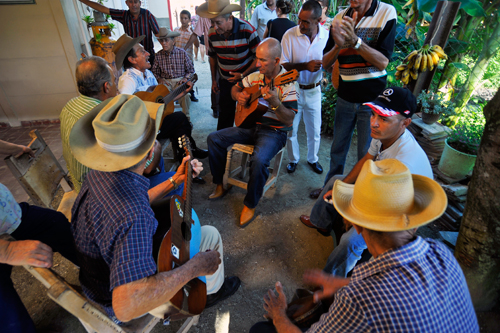 UNESCO announced today that Cuban punto is inscribed in 2017 on the Representative List of the Intangible Cultural Heritage of Humanity.
Punto is the poetry and music of Cuban farmworkers, consisting of a tune or melody over which a person sings an improvised or learned stanza of ten octameter verse lines, with a rhyming scheme.
There are two principal variations of Punto: punto libre, a tune of free meter; and punto fijo, which can be in key or crossed. Throughout history, punto has habitually been practiced in the countryside, although variants now exist throughout the rest of the population.
A teaching program is organized in Houses of Culture across Cuba, involving workshops instructed by bearers and practitioners of punto.
Seminars, workshops, contests, festivals and events aimed at safeguarding and revitalizing punto are organized throughout Cuba and an occupational category has now been assigned to the work of the practitioners and bearers, turning this into a way of living for many.