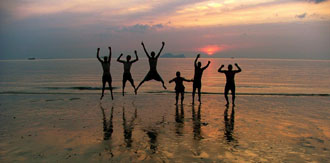 Based on the Isle of Skye, The Peatbog Faeries have played to audiences all over the world. They incorporate many influences which take them from traditional jigs and reels through rock, jazz, reggae and more.
Mellowosity and Faerie Stories, the Peatbogs first two albums remain two of Greentrax Recordings best ever selling albums.
The Peatbogs released their third album Welcome to Dun Vegas on July 28th 2003 on Peatbog Records. It sold well and enjoyed some great reviews including 5 stars from the Glasgow Herald.
In 2005 the band promoted its new album Croftwork with some extensive touring including festivals such as Glastonbury Cambridge Folk Festival and Beautiful Days. In November the band won the award for Best Live Act of 2005 at the prestigious Scots TradMusic Awards.
Their music has been used for several TV and DVD soundtracks they have undertaken numerous TV and radio performances as well as being commissioned by Scottish Ballet for an original piece performed for the first time in the Citizen's Theatre in Glasgow.
Released on 25th April 2005 on the band's own Peatbog Records label the Peatbogs fourth album Croftwork is their most ambitious and dynamic offering to date.
The Peatbog Faeries are:
Peter Morrison – Pipes & Whistles
Adam Sutherland – Fiddles
Tom Salter – Guitar
Graeme Stafford – Keyboards
Innes Hutton – Bass & Percussion
Iain Copeland – Drums
Discography:
Mellowosity (Greentrax Recordings, 1996)
Faerie Stories (Greentrax Recordings, 2000)
Welcome to Dun Vegas (Peatbog Records, 2003)
Croftwork (Peatbog Records, 2005)
What Men Deserve to Lose (Peatbog Records, 2007)
Live (Peatbog Records, 2009)
Dust (Peatbog Records, 2011)
Blackhouse (Peatbog Records, 2015)