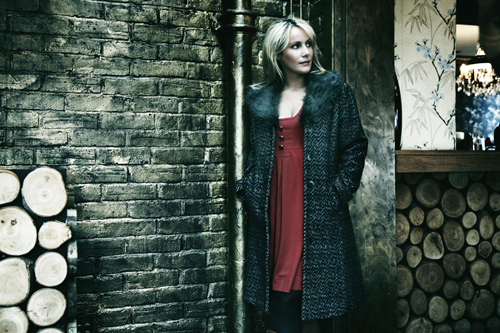 Heidi Talbot (lead vocals & bodhran) was born and raised in Kill, County Kildare, Ireland. Her mother Rosaleen is a singer, pianist and the music director of the local church where Heidi sang as a young girl. Heidi learned to play the guitar at age 12, and soon found herself singing and playing at local sessions.
At sixteen, she enrolled at Dublin's celebrated Bel Canto singing school, studying for the next year and a half under its founder and director Frank Merriman – 'the best teacher in the universe,' according to Sinead O'Connor, another former student.
She later performed throughout Counties Kildare and Dublin, Ireland, and was invited to move to the United States by the popular Cara Band of New York. She spent two years honing her voice and style amidst the city's vibrant musical melting-pot. She went on to record a highly acclaimed solo album, self-titled Heidi Talbot.
In 2002 Talbot was invited to join Cherish the Ladies and in between the band's hectic touring schedule she continued to develop her solo work, releasing Distant Future in 2004 on the Nashville-based roots label Compass Records. Produced by John Doyle, the record featured such distinguished guests as multi-instrumentalist Dirk Powell, concertinist John Williams and fiddler Rayna Gellert. Three years later, the recording of In Love & Light coincided with her decision to leave Cherish at the end of 2007.
Drawing on the full, diverse spectrum of influences that inform her singing, Talbot released In Love & Light in February 2008. The CD includes guest contributions from Eddi Reader, ex-Solas guitarist John Doyle, fiddler John McCusker and flute/whistle ace Michael McGoldrick.
Discography:
Heidi Talbot (2002)
Distant Future (2004)
In Love and Light (2008)
The Last Star (2010)
My Sister the Moon EP (2012)
Angels Without Wings (2013)
Here We Go 1, 2, 3 (Navigator Records, 2016)
with Cherish the Ladies:
On Christmas Night (2004)
Woman of the House (2005)