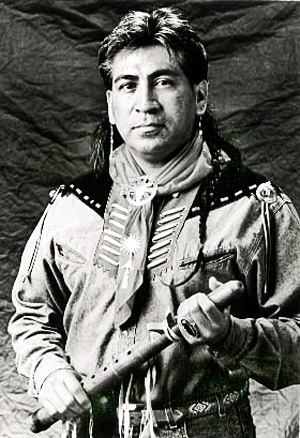 Cornel Pewewardy (flute and vocals) is the lead singer of the Alliance West Singers.
Dr. Pewewardy was born in Lawton Oklahoma of Comanche and Kiowa parents is a member of the Comanche Tribe of Oklahoma and is known as an accomplished singer among the Comanche Kiowa and Ponca people.
His ability to compose songs and play the flute was nurtured by his Comanche uncle the late George "Woogie" Watchetaker, a direct descendant of Chief Wild Horse. Woody Bigbow (Kiowa) presented Cornel his first Indian flute in 1975 in Anadarko, Oklahoma. Cornel is also a recognized educator and has received several prestigious awards.
Discography:
Spirit Journey (Soar Records 1993)
Dancing Buffalo: Dances and Flute Songs (Music of the World, 1994)
Between Father Sky and Mother Earth, with other artists (Narada, 1995)
Comanche Hymns from the Prairie (SOAR/Natural Visions, 1996)
Arctic Refuge – A Gathering of Tribes (Soundings Of The Planet)