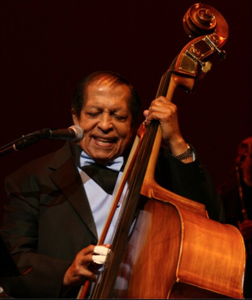 Bassist and composer Israel López Valdés, better known as Cachao, was born on September 14, 1918. At the age of 12, Cachao had made his debut with the Havana Philharmonic, standing on a wooden box playing the contrabass alongside his brother Orestes, a founding member of the orchestra. By the age of 19, he had joined Arcano y Sus Maravillas, one of the most popular danzon orchestras in Cuba. Little did Cachao and his brother know that they would change Latin music and create a rhythm called mambo.
Cachao and his brother, experimenting with this type of music, added a nuevo ritmo part and called the result "mambo." This took place in the late 1930s, and it revolutionized Latin music.
By the 1950s, Cachao had formed his own group and continued playing with other bands in Cuba, lending his composing skills to other orchestras. It is said that between his brother and him, a staggering 3,000 danzons were written. Cachao also composed "El Danzon de Buena Vista," the title track for Ry Cooder's Buena Vista Social Club album.
In 1957, Cachao again blew everybody's mind by creating the descargas, or jam sessions, that had the top musicians in Cuba performing together. These recordings were so popular that in the 1960s, Al Santiago created the Alegre All-Stars, and in the 1970s the Fania All Stars were born.
After Castro took over Cuba, Cachao left the country for good. When he arrived to New York, he started playing with such artists as Charlie Palmieri, Tito Rodriguez and the Alegre All-Stars with Tito Puente. Throughout the late 1960s and 1970s, he was all over New York City. In the late 1970s, Cachao moved to Miami, where he virtually went into obscurity, relegated to playing small clubs and weddings.
It wasn't until 1989, when a young and talented Cuban actor named Andy Garcia came into López's life, that the world would know who this great master musician was. Garcia wanted a taste of his beloved Cuba and its music for "The Lost City," a movie he wanted to produce. The two artists collaborated and the end result was the highly acclaimed documentary, Cachao. Como Su Ritmo No Hay Dos in 1993. The film caused such a stir that Cachao was asked to perform at New York's Radio City Music Hall.
In 2003, Cachao won a Latin Grammy for Best Traditional Tropical Latin Album together with Bebo Valdés and Patato Valdés for El Arte del Sabor. Cachao won a further Grammy in 2005 for his own work, Ahora Si!.
Israel López Valdés died on March 22, 2008.
Discography:
Cuban Jam Sessions in Miniature "Descargas" (Panart, 1957)
Con el ritmo de Cachao (Duarte/Kubaney, 1958), reissued as Camina Juan Pescao (Duher, 1974)
El gran Cachao (Duarte/Kubaney, 1959), reissued as Cachao y su Típica Vol. 2 (Duher, 1974)
Jam Session with Feeling (Maype, 1962)
Descarga (Maype, 1963)
Cuban Music in Jam Session (Bonita, 1966)
Descargas con el ritmo de Cachao (Modiner, 1974)
Cachao y su Descarga '77' (Salsoul, 1977)
Dos (Salsoul, 1977)
Maestro de Maestros Cachao y su Descarga '86 (Tania, 1986)
Master Sessions, Volume 1 (Crescent Moon, 1994)
Master Sessions, Volume 2 (Crescent Moon, 1995)
Cuba linda (EMI, 2000)
Ahora sí (Univisión, 2004)
The Last Mambo (Sony, 2011)