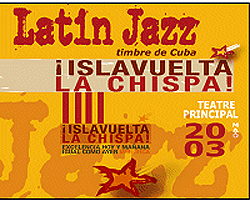 Mahon, Menorca Island, Spain – IslaVuelta – la chispa! will take place in Mahon, Menorca, Baleares, Spain 2003.
IslaVuelta – la chispa! is an annual series of 5 Jazz/Latin Jazz concerts and hot Cuban rhythms, staged in the splendour of Spain's second oldest Opera House, performed by world renown musicians in a friendly repatriation of music from the Americas and the Caribbean, illustrating the evidence of past Iberian influences on an African heartbeat. Concert schedule:
All events take place at 21.30hrs
30th May 2003:
Ramón Valle -solo (support act: La Folkabanda)
27th June 2003:
Hilario Durán Quartet
25th July 2003:
Monty Alexander Trio
19th September:
Habana Son Club
10th October:
Michel Camilo -solo
All concerts take place at Teatre Principal de Maó, Mahon, Menorca, Balearic Islands:
The second oldest Opera House in Spain (1829), tastefully renovated and brought up to date technically, combining the best of the old with the state-of-the-art best of the new. The theatre boasts a beautiful auditorium in the Italianate style.
The purpose of the concert series is to acknowledge and celebrate the historical, musical and artistic link between Menorca and Cuba and more broadly Spain and the Americas through a friendly repatriation of musical forms to the island through a series of concerts which will stand as a metaphor for the harmonious and mutual benefits that can flow from cross cultural appreciation and co-operation.
IslaVuelta – la chispa! is conceived produced and promoted by Ivan Brown of Idtenti Limited (London).