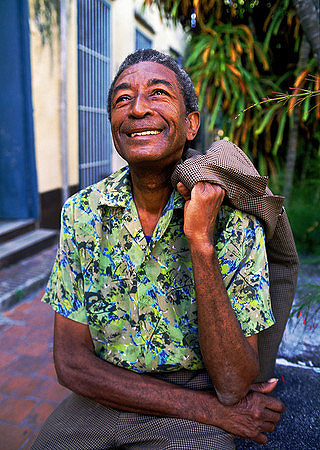 (Prensa Latina-Cumbancha) Camagüey, Cuba – Lázaro Ros received the distinction "Espejo de Paciencia," for his virtuosity that led him to become the most famous Cuban singer of folkloric chants of African origin. Seventy-eight-year-old Ros was paid homage to with the highest distinction granted by the Provincial Culture Board in Camagüey, during his visit to this city, where he was invited to the 1st Festival of Olorum Dance.
He was born May 11, 1925 in Havana, and at the age of 13 he was vocalizing ritual pieces at Regla de Ocha (Santeria) ceremonies.
In 1949, he started his professional career and has been a member of the Cuban National Folkloric Group, the Cuban National Ballet, the National Symphonic Orchestra, Casa de las Americas and the bands Sintesis and Mezcla, plus other institutions and bands.
His career also includes teaching in Cuba and abroad, and the achievement of Cuban and foreign distinctions, including a Latin Grammy nomination in 2001. The "Espejo de Paciencia" award was also granted to the band Afrocuba from Matanzas, attending the same festival.