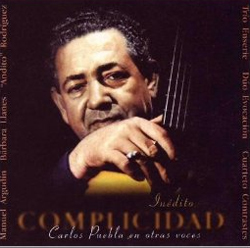 (Prensa Latina) Bayamo, Cuba –  The artistic creation of Manzanillo singer songwriter Carlos Puebla (1917- 1989) places him among popular Cuban music's top musicians, said National Music Museum's music researcher Blanca Cilia Reyez in Bayamo this week. Cilia Reyez recalled that the songwriter of "Quiero hablar contigo" composed about 1,500 songs, "guajiras"; "tangos"; anthems; marches; lullabies; "sones"; "claves" and "boleros", with three thematical lines: socio-political, love and humor.
Puebla composed 200 "bolero" and love songs, thus demonstrating the use of stylistic resources of popular Cuban music, added Cilia Reyez.
On his compact disc "Complicidad", recorded in 1989 for the Abdala record label, Carlos Puebla collected 13 love songs, sang by Cuban young "trovadores".