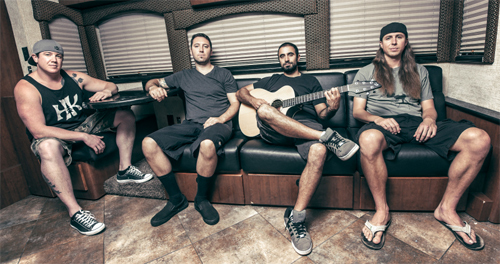 Rising American reggae act Rebelution is releasing the Count Me In Remix EP later this month. The remix set features Iration, The Green, J Boog, Katchafire, Dub Architect, Michael Goldwasser, Marshall "Ras MG" Goodman and Yeti Beats.
The Remix EP includes 5 tracks, with all proceeds being donated to WeCareSolar, Lupus Foundation of America, Jacob's Heart Children's Cancer Support and the SurfRider Foundation.
"Roots Reggae Music" gets a super dub treatment courtesy of Dub Architect and an extra verse from tour mates Katchafire.
"Hate To Be The One" is reimagined by Easy Star Records' in-house producer Michael Goldwasser, and Sublime collaborator Marshall "Ras MG" Goodman offers up remixes of album favorites "Count Me In" and "De-Stress."
Yeti Beats adds some more bounce to the anti-materialism anthem "More Love," featuring frequent collaborators and tour mates Iration, J Boog and Easy Star label mates The Green.
The "Winter Greens Tour" will include classic Rebelution tracks alongside new favorites, supported by other leading roots bands including Katchafire from New Zealand, Gondwana from Chile, and Jeremy Loops from South Africa.
Rebelution released their fourth studio album, Count Me In in 2014.
Winter Greens Tour 2015
with Katchafire
01/14 – Lawrence, KS at Liberty Hall
01/15 – Fayetteville, AR at George's Majestic Lounge
01/16 – Dallas, TX at South Side Ballroom
01/17 – Austin, TX at Austin Music Hall
01/18 – Houston, TX at House of Blues
01/21 – Baton Rouge, LA at Varsity Theatre*
01/22 – New Orleans, LA at Joy Theater*
01/23 – Birmingham, AL at Workplay Soundstage
01/24 – Chattanooga, TN at Track 29
01/27 – Charleston, SC at Music Farm
01/28 – Athens, GA at Georgia Theatre
01/29 – Nashville, TN at Marathon Music Works
01/30 – Asheville, NC at The Orange Peel
01/31 – Raleigh, NC at The Ritz
02/03 – Tallahassee, FL at The Moon *No Katchafire
*w/ Khris Royal & Dark Matter
with Gondwana & Jeremy Loops
02/26 – Park City, UT at Park City Live
02/27 – Boise, ID at Knitting Factory
02/28 – Spokane, WA at Knitting Factory
03/01 – Vancouver, BC at Commodore Ballroom
03/04 – Bend, OR at Midtown Ballroom
03/05 – Portland, OR at Crystal Ballroom
03/06 – Portland, OR at Crystal Ballroom
03/07 – Arcata, CA at HSU Gymnasium
03/08 – Chico, CA at Senator Theater
03/11 – Santa Cruz, CA at The Catalyst
03/12 – Santa Cruz, CA at The Catalyst
03/13 – Hollywood, CA at The Palladium
03/14 – Hollywood, CA at The Palladium
Festivals & Other Shows
02/05 – Estero, FL at Germain Arena w/ Inner Circle
02/06 – Delray Beach, FL at Garlic Fest
03/15 – Tempe Beach Park, AZ at Pot of Gold Music Festival
04/03 – Melbourne, Australia at The Corner
04/04 – Byron Bay, Australia at Byron Bay BluesFest
04/06 – Byron Bay, Australia at Byron Bay BluesFest
04/09 – Sydney, Australia at Metro w/ Jimmy Cliff
06/04 – 06/07 – Ozark, AR at Wakarusa Music Festival
Author:
World Music Central News Department
World music news from the editors at World Music Central